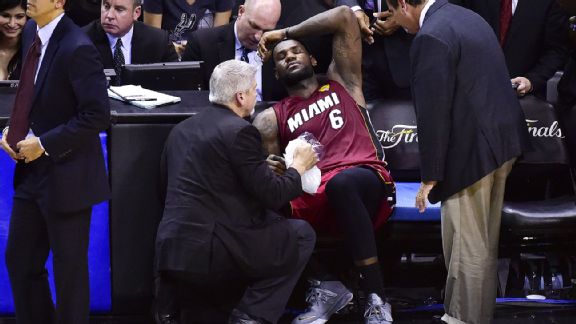 Bob Donnan/USA TODAY SportsScott Van Pelt and Ryen A. Russillo discuss Game 1 of the NBA Finals and LeBron's cramping issues.
Friday, Scott Van Pelt and Ryen Russillo talk about the Spurs win in Game 1 of the NBA Finals, delve into LeBron's cramping issues and much more. Listen to the best highlights of the show below!
ESPN NBA analyst Doris Burke comments on the possilbe triple digit temperature in the AT&T Center last night, what type of discussion is reasonable revolving around LeBron's cramping, if anyone of respect has questioned LeBron's toughness and more. Listen

NBA on ESPN Radio's Jon Barry dishes on how hot it was in the AT&T Center was last night, if he's ever dealt with something like this as a player, why it's absurd to say LeBron wasn't tough enough, if Miami needs to make adjustments against San Antonio's bigs and more. Listen

NBA Hall of Famer Chris Mullin talks about LeBron's cramps on how he's dealt with it in his career, why the Spurs might not have been as affected by the lack of A/C, what the Heat need to against the Spurs defensively, if Sacramento is looking at Kevin Love this offseason and more. Listen

PODCASTS
Ryen Russillo brings his own flavor to the game, mixing some pop culture with the latest happenings.