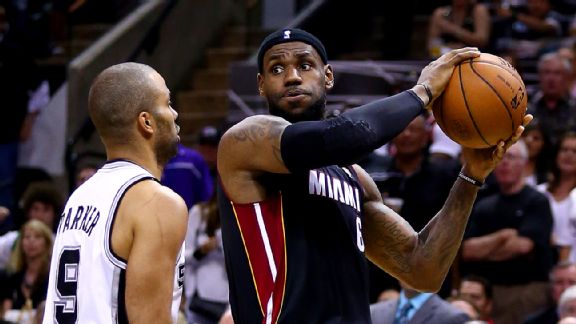 Andy Lyons/Getty ImagesRyen A. Russillo and Michael Smith discuss the defensive adjustments the Spurs and Heat have made.
Monday, Ryen Russillo and Michael Smith talk about the Heat's win over the Spurs in Game 2 of the NBA Finals, California Chrome's owner responding to his own comments and much more. Listen to the best highlights of the show below!
ESPN.com's Brian Windhorst discusses why he thinks the Heat believes they should be leaving San Antonio up 2-0, if it gets tiring being known as "the guy" who knows LeBron, how much more we should expect to see length on Tony Parker and much more. Listen

ESPN NBA Draft expert Chad Ford looks at each of the top 5 picks and discusses who could be taken and why, what the Bucks are hoping the Cavs do with the #1 pick, what Philly could do to get Andrew Wiggins, if Marcus Smart has moved into the Top 5 and more. Listen

Scott Van Pelt dishes on the latest news from the US Open, if Durant could have done what LeBron did last night, if Phil Mickelson could complete the career slam and more. Listen

ESPN.com's Tom Haberstroh delves into the individual matchups for the Heat-Spurs series, if the Spurs need to play small ball and how much that plays into the Heats favor, if the Spurs are the better team and much more. Listen

PODCASTS
Ryen Russillo brings his own flavor to the game, mixing some pop culture with the latest happenings.