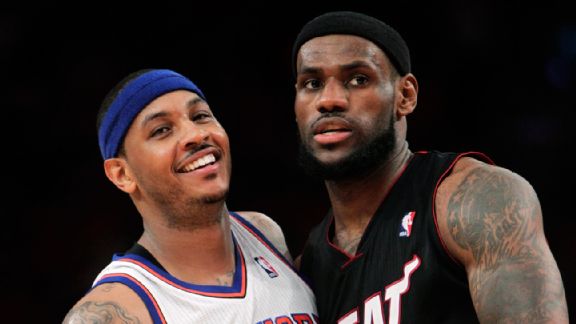 AP Photo/Seth WenigRyen A. Russillo and Adnan Virk cover the Heat's reported interest in Carmelo Anthony and more.
Thursday, Ryen Russillo and Adnan Virk discuss the NBA Finals, the futures of Carmelo Anthony and the Heat, the FIFA World Cup and much more. Listen to the best highlights of the show below!
PTI's Michael Wilbon weighs in on whether Carmelo Anthony could wind up with the Heat, his expectations for Game 4 of the NBA Finals and more. Listen

ESPN Radio's Scott Van Pelt shares his thoughts on how Phil Mickelson fared during the opening round of the U.S. Open, the report that the Heat will pursue Carmelo Anthony and more. Listen

ESPN FC's Max Bretos dishes on Brazil's chances of winning the FIFA World Cup, how the United States compares to the top teams in the world and more. Listen

Three-time NBA champion Bill Cartwright comments on parity in the NBA, what joining Michael Jordan's Bulls was like, Horace Grant's remarks regarding LeBron James and the Heat and more. Listen

PODCASTS
Ryen Russillo brings his own flavor to the game, mixing some pop culture with the latest happenings.