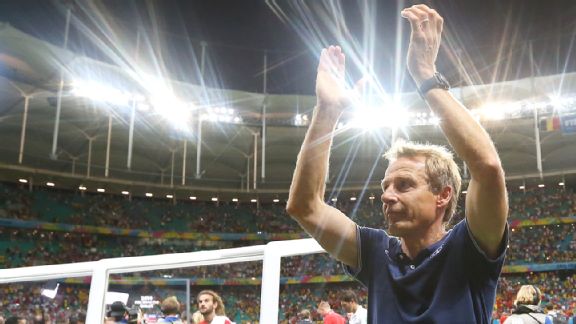 Alex Livesey/Getty ImagesJorge Sedano covers the United States' loss in the round of 16 at the FIFA World Cup and much more.
Wednesday, Jorge Sedano discusses the end of the United States' run at the FIFA World Cup, free agency in the NBA and more. Listen to the best highlights of the show below!
ESPN MLB Insider Buster Olney dishes on the futures of David Price and Jon Lester, Bryce Harper's remarks regarding the Nationals' lineup and more. Listen

ESPN NBA analyst Tim Legler talks about the Cavaliers' interest in Gordon Hayward, his expectations for the Heat's offseason, potential destinations for Carmelo Anthony and Pau Gasol and more. Listen

ESPN NBA Insider Amin Elhassan weighs in on the signings of Marcin Gortat and Avery Bradley, Lance Stephenson's value, the state of the Heat and more. Listen

ESPN Radio's Mark Schlereth shares his thoughts on the denial of Jimmy Graham's request to officially be declared a WR under the NFL's franchise-tag rules and more.
Listen

PODCASTS
Will Cain gives you his unfiltered take on the biggest stories in the sports world.