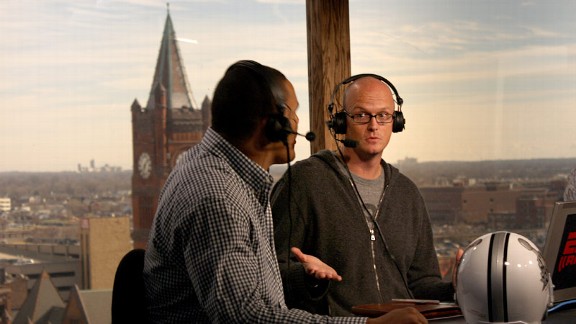 Frank Dale/ESPN RadioJets TE Dustin Keller chats with Scott Van Pelt on set in Indianapolis.
With just a few days left before Super Bowl XLVI, Scott Van Pelt and Ryen Russillo share what they know right now about Giants-Patriots. Listen

Jets TE Dustin Keller talks about what it's like for Jets fans to see the Giants and Patriots in the Super Bowl and says the Jets can fix their locker room issues. Listen

Pro Football Weekly's Eric Edholm talks about what to expect from New York's pass rush, how the Giants ended up in the Super Bowl, Eli Manning's legacy and more. Listen

Super Bowl XL champion Jerome Bettis shares his Super Bowl experience and what he expects from Giants-Patriots. Listen

Broncos LB Von Miller talks about Tim Tebow's winning streak, the Tebow hype, the overtime playoff win over the Steelers and more. Listen

Scott Van Pelt and Ryen Russillo discuss national signing day and the problems with the recruiting process. Listen

PODCASTS
Ryen Russillo brings his own flavor to the game, mixing some pop culture with the latest happenings.