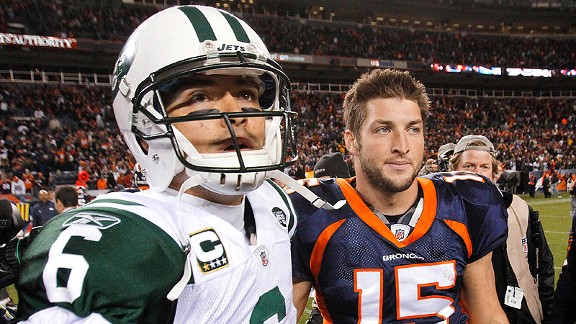 AP Photo/Barry GutierrezHow will Mark Sanchez and Tim Tebow fare this season?
With Adnan Virk and Linda Cohn
ESPN's Michael Wilbon says the Jets' having Tim Tebow and Mark Sanchez will be "unproductive" in New York. Plus, he says the NFL's suspension of Sean Payton wasn't excessive. Listen

Former Saints QB Bobby Hebert talks about how the NFL's punishment of the Saints will impact the team's performance and ticket sales. Listen

Virginia Tech coach Seth Greenberg previews the Sweet 16 matchups in the NCAA tournament.. Listen

Red Sox DH David Ortiz talks about having Bobby Valentine as a manager and trying to make it back to the playoffs this season. Listen

Heisman trophy winner Bo Jackson says the Saints' bounty scandal casts a cloud over the NFL. Plus, he reflects on his career as a two-sport star and explains his upcoming bike ride through Alabama. Listen

PODCASTS
Will Cain gives you his unfiltered take on the biggest stories in the sports world.