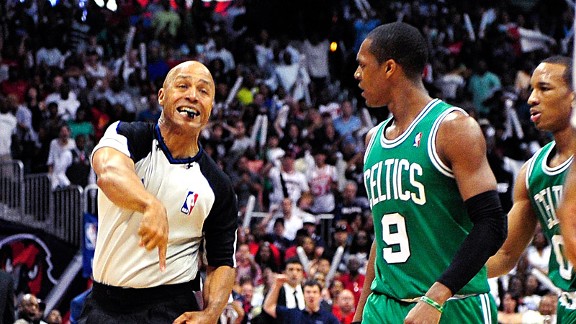 Grant Halverson/Getty ImagesBoston Celtics PG Rajon Rondo was ejected from Game 1 and could be suspended for bumping official Marc Davis.
Ryen Russillo and Tim Legler hosting
ESPN NBA Insider Ric Bucher talks about Derrick Rose's injury. Bucher says the Bulls have been trying to build chemistry and the players believe in coach Tom Thibodeau's approach. Plus, Bucher breaks down the rest of the NBA playoffs, including Knicks-Heat and Rajon Rondo losing control late for the Celtics. Listen

ESPN NFL Insider John Clayton breaks down an entertaining NFL draft and says it will be hard for the Redskins to build trade value with QB Kirk Cousins as the No. 3 QB. Listen

ESPN NFL draft analyst Todd McShay defends the Washington Redskins' decision to draft QB Kirk Cousins. McShay says this could be the best thing for Cousins' career and the Redskins could have a great backup. Listen

NFL Network analyst Mike Lombardi says the hardest thing to do in pro sports is to evaluate your own players heading into the draft to determine what your needs truly are. Plus, Lombardi talks about some draft picks that could be impact players in the NFL and says Tennessee could have employed better draft strategy. Listen

PODCASTS
Will Cain gives you his unfiltered take on the biggest stories in the sports world.