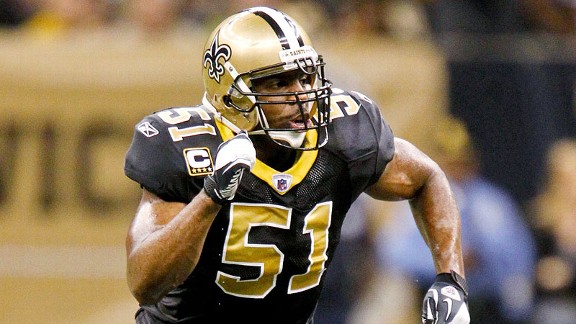 Derick E. Hingle/US PresswireThe NFL announced the suspensions for four players in connection with the Saints' bounty scandal. Jonathan Vilma will miss the entire season.
Former New Orleans Saints safety Darren Sharper explains why he feels the NFL has assessed the situation with the Saints incorrectly. There isn't the proof that merits the suspensions. Sharper also takes issue with commissioner Roger Goodell being the judge and jury for the case. Sharper says there is not much the players can do because any appeal goes back to Goodell. Listen

WWL's Kristian Garic says the Saints' players feel like the suspensions were a little harsh and the fans feel like the NFL is picking on the team. Listen

Eagles DE Jason Babin says a year is a long time for a suspension. If the NFL is trying to send a strong message then they have done it. Listen

Scott Van Pelt says while what happened to former Rutgers football player Eric LeGrand was tragic, he lives his life now in a way that is not a tragedy. Listen

ESPN NBA analyst Chris Mullin says Paul Pierce is one of the all-time great Celtics. Pierce can do it all. He put his stamp on Game 2 against the Hawks from the start. Listen

SI's Chris Mannix describes how Memphis can recover from blowing a huge lead in Game 1 to the Clippers. Plus, Mannix says Miami is the favorite to win the NBA title now. Listen

PODCASTS
Ryen Russillo and Danny Kanell bring their own flavor to the game, mixing some pop culture with the latest happenings.