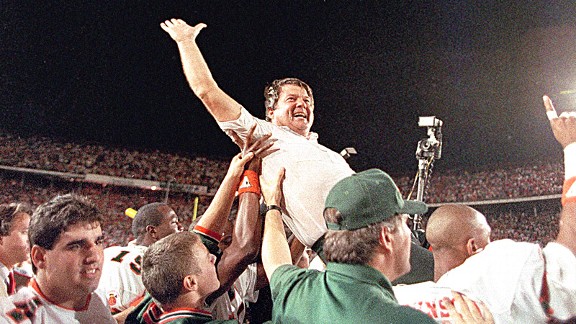 AP Photo/Raul DemolinaJimmy Johnson was announced as a College Football Hall of Fame inductee.
College Football Hall of Fame inductee Jimmy Johnson says the most fun he had in his career was coaching in college football. Johnson says his favorite team was his 1987 national championship team at Miami. Listen

Sports Illustrated's Chris Mannix says Oklahoma City is just a better team than the Lakers at this point and they didn't show any signs of rust from the long layoff. Plus, Mannix says Kevin Garnett's foul was a blatant and obvious illegal screen but a gutsy call to make in Boston. Listen

ESPN MLB Insider Tim Kurkjian shares his thoughts on Matt Kemp's trip to the DL. Kurkjian says the Dodgers need to be careful because of how much Kemp relies on his legs. Listen

Scott Van Pelt and Ryen Russillo talk about the MLB players with giant contracts that haven't performed. Listen

PODCASTS
Ryen Russillo and Danny Kanell bring their own flavor to the game, mixing some pop culture with the latest happenings.