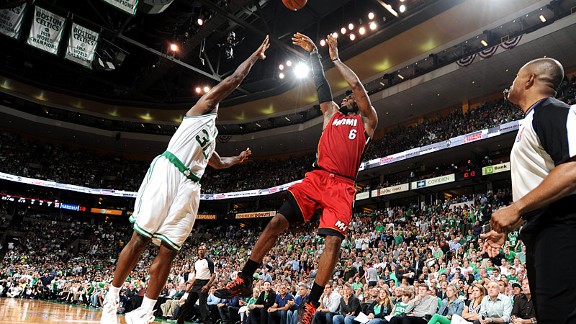 Steve Babineau/NBAE/Getty ImagesHeat forward LeBron James couldn't stop hitting tough shots in Game 6.
ESPN Radio's Ryen Russillo shares his thoughts on LeBron James' performance in Game 6. Just when you want to write off the Celtics, they prove you wrong so Game 7 is anyone's game. Listen

ESPN NBA analyst Jon Barry says LeBron James' performance in Game 6 was exactly what a guy that good should do. It was incredible. James set the tone. Listen

ESPN.com Heat Index writer Michael Wallace says LeBron James businesslike demeanor and intensity was 48 hours in the making. It certainly helped to make shots as well.
Listen

Sports Illustrated's Chris Mannix says the Thunder winning the West could be the start of something big. He would favor them over either the Heat or the Celtics. Listen

ESPN's Doris Burke says she doesn't root for anyone, but it would be a stomach-churning excruciating experience to see LeBron James fail in the 4th quarter of Game 7. Burke also talks about what the Celtics need to do to have a chance to win. Listen

ESPN's Kenny Mayne says the I'll Have Another camp didn't like the way the horse came off the track today. There is a tendon issue and they are doing right by the horse. Listen

White Sox 1B Paul Konerko talks about the issues he's been dealing with on his wrist. Konerko says as long as he can stay healthy, he knows he has a good plan when he goes up to bat. Listen

PODCASTS
Will Cain gives you his unfiltered take on the biggest stories in the sports world.