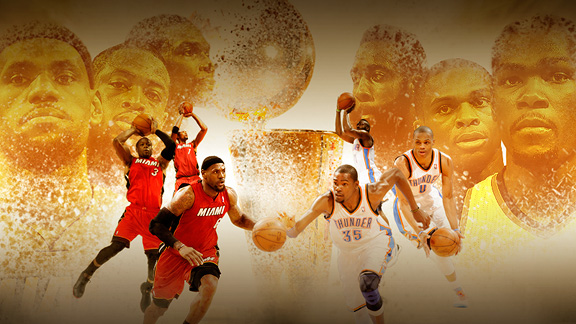 ESPN.com IllustrationThe NBA Finals are set to begin. Which trio of stars will win the title?
With Ryen Russillo and Linda Cohn
Hall of Famer Dominique Wilkins says Miami's main focus is on stealing Game 1 in Oklahoma City. Wilkins also comment on how LeBron James' history affect how people perceive him. Listen

Miami Herald writer Joe Goodman says the Heat may be the underdogs, but the burden of expectation still lies with Miami. Listen

ESPN MLB Insider Tim Kurkjian talks about how the Yankees have solved most of their problems with their starting rotation. Plus, Kurkjian talks about the starting pitching of the Nationals. Listen

Our host Scott Van Pelt shares his thoughts on Tiger Woods' comments heading into the U.S. Open and previews the tournament. Van Pelt also weighs in on the NBA Finals.
Listen

The Oklahoman writer Darnell Mayberry looks forward to the young Thunder in their first shot at greatness. Mayberry predicts a Thunder championship in 6 or 7 games. Listen

PODCASTS
Will Cain gives you his unfiltered take on the biggest stories in the sports world.