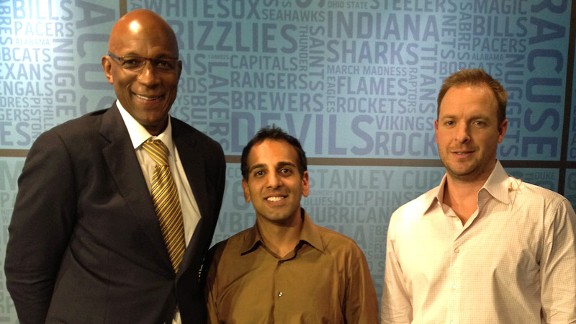 ESPN Radio Hall of Famer Clyde Drexler joins Adnan Virk and Ryen Russillo in studio.
With Ryen Russillo and Adnan Virk
Hall of Famer Clyde Drexler talks about the dynamic in the Dream Team locker room. There was a lot of effort expended in practice and checking out Barcelona and the team still won the gold. Listen

Our host Scott Van Pelt says he was impressed with Thunder coach Scott Brooks' coaching moves in the second half. Van Pelt also previews the U.S. Open. Listen

ESPN NBA analyst Jeff Van Gundy says Dwyane Wade needs to step up on the defensive end. LeBron James has been great. Listen

ESPN NBA analyst Jalen Rose describes what he saw in Game 1 of the NBA Finals and breaks down what the Heat need to do in Game 2 to even series. Listen

ESPN MLB Insider Buster Olney addresses Bryce Harper's response to a question about Canada's drinking age. Olney also breaks down the Pirates. Listen

PODCASTS
Ryen Russillo and Danny Kanell bring their own flavor to the game, mixing some pop culture with the latest happenings.