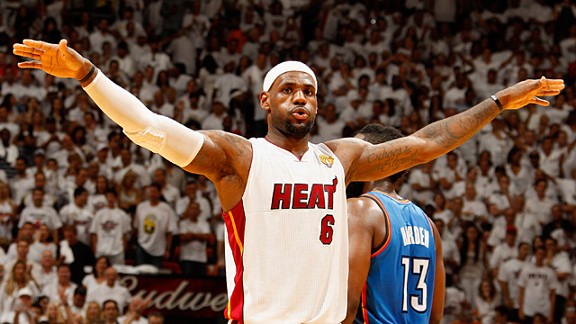 Issac Baldizon/NBAE via Getty ImagesLeBron James quiets the crowd during the Game 3 win for the Heat in the Finals.
With Ryen Russillo and Adnan Virk
ESPN NBA Insider Ric Bucher says he doesn't have a feel for the NBA Finals, even after three games. Bucher says he'd pick Miami to win if he had to because of their experience and hunger. Listen

ESPN NBA analyst Bruce Bowen says he believes if the Miami Heat continue to play the way they are playing, they'll win the championship. Bowen talks about how the Heat are defending Kevin Durant. Listen

U.S. Open champion Webb Simpson says he figured if he shot under par he might have a chance. He wasn't watching the leaderboard but he knew the way the crowd was reacting to him that he was close. The setup to the course was genius and it guaranteed an exciting finish. Listen

Our host Scott Van Pelt says Webb Simpson is a class player, but he was still someone no one was predicting would win. A different player winning every major hurts the sport with casual fans. Listen

ESPN MLB analyst Rick Sutcliffe says the New York Yankees have a special starting rotation right now. Listen

PODCASTS
Will Cain gives you his unfiltered take on the biggest stories in the sports world.