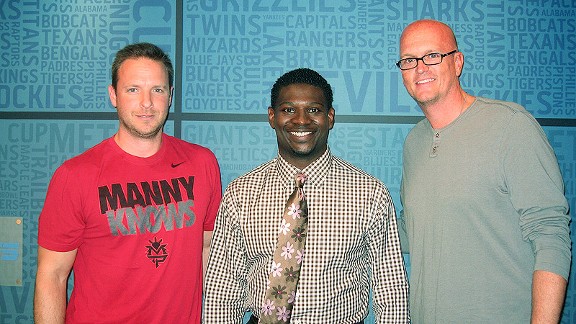 ESPN RadioLaDainian Tomlinson visited Ryen Russillo and SVP in studio on Monday.
Former Chargers and Jets RB LaDainian Tomlinson shares a story about when he first knew he was ready to retire from football, discusses offers he received to play this upcoming season, and talks about Tim Tebow, Philip Rivers, and what he'll miss most about the game. Listen

MLB on ESPN's Rick Sutcliffe reacts to the Kevin Youkilis trade, doesn't think R.A. Dickey will start the MLB All-Star Game, and says the Rangers are the best team in baseball. Listen

Orioles CF Adam Jones, enjoying his off day on a boat, talks about a great atmosphere for the weekend's Nationals-Orioles series, why this season is different, his new contract, and All-Star voting. Listen

ESPN.com NBA Draft Insider Chad Ford talks about how NBA Draft prospects view Charlotte, where certain players will go after Anthony Davis is taken No. 1, if Dwight Howard could land in Houston, and what happened to this draft class. Listen

Former Kentucky star Anthony Davis admits to a nervous feeling as draft day approaches. The likely No. 1 pick talks about his offensive ceiling, what he'll do with the money, and being a leader. Listen

Scott Van Pelt's "One Big Thing" focuses on the likely end of the line for Venus Williams and the Williams sisters as a dominating force in women's tennis. Listen

PODCASTS
Ryen Russillo brings his own flavor to the game, mixing some pop culture with the latest happenings.