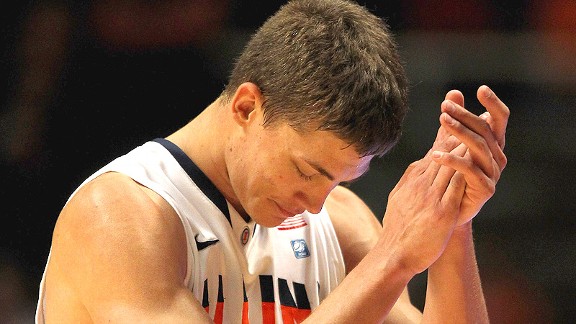 Jonathan Daniel/Getty ImagesNBA Draft hopeful Meyers Leonard is receiving positive feedback but is unsure who will draft him.
With Adnan Virk and Ryen Russillo
ESPN MLB Insider Buster Olney thinks MLB needs to move quicker to institute better instant replay when looking at plays like Dewayne Wise's. He also talks about the Yankees' rotation and Matt Kemp not inviting Bryce Harper to the Home Run Derby. Listen

ESPN college basketball analyst Jay Williams says he thinks the Bobcats should trade the No. 2 pick for a veteran presence. He also talks about the draft night experience, Jared Sullinger's stock dropping and rookies who are asked to be leaders. Listen

Former Illinois center Meyers Leonard says he isn't sure which team will draft him but he is confident in his skillset. Plus, he talks about the lack of true centers in the NBA and how his difficult upbringing helped him mature. Listen

Sports Illustrated's Andy Staples breaks down the new four-team college football playoff, who he would want on the selection committee and how regular season schedules will be impacted. Listen

ESPN.com senior college football writer Ivan Maisel talks about the next steps in the playoff system. He discusses the committee selection process and says to make certain the regular season remains important. Listen

PODCASTS
Ryen Russillo and Danny Kanell bring their own flavor to the game, mixing some pop culture with the latest happenings.