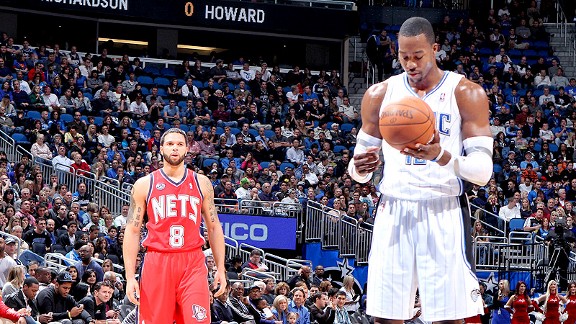 Gary W. Green/Orlando Sentinel/Getty ImagesWill Deron Williams (left) and Dwight Howard be teammates in Brooklyn?
With Jonathan Coachman and Linda Cohn
ESPN.com NBA writer Marc Stein discusses the likelihood of seeing Dwight Howard in a Nets uniform. He also talks about scenarios for the Lakers and Hawks, and Deron Williams' and Landry Fields' future. Listen

ESPN Dallas 103.3 FM host Matt Mosley talks about Mark Cuban not being present for a meeting with free agent Deron Williams. Mosley says Dallas should have kept its title team together and feels bad for Dirk Nowitzki. Listen

New York Daily News' Nets writer Stefan Bondy expects Deron Williams to re-sign with the Nets in the near future. He talks about a potential Dwight Howard deal and shares the latest on the Knicks. Listen

ESPN the Magazine MLB senior writer Tim Kurkjian hopes Chipper Jones and Bryce Harper are both in the All-Star Game, says David Wright should be starting, and is okay with Tony LaRussa managing. Listen

Sports Illustrated NBA writer Jack McCallum, author of a new book on "The Dream Team" from 1992, shares stories about Magic Johnson, what players learned from each other and the Dream Team concept today. Listen

PODCASTS
Will Cain gives you his unfiltered take on the biggest stories in the sports world.