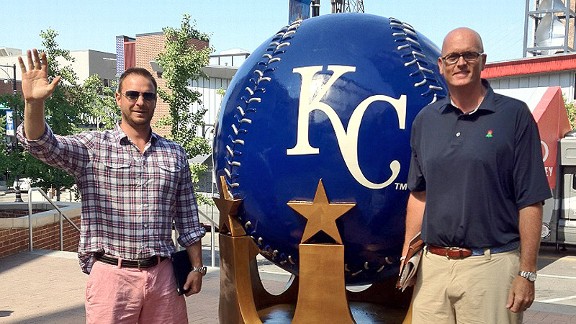 ESPN Radio Ryen Russillo and Scott Van Pelt hang out in Kansas City.
From KC Live!
ESPN's Karl Ravech talks about the boos Robinson Cano received from the Kansas City crowd. Plus, Ravech says the MLB All-Star Game should be a showcase of stories and stars. Listen

ESPN MLB Insider Tim Kurkjian says we're entering a new generation of great players. Kurkjian says it would be a better story to see R.A. Dickey start the All-Star Game. Listen

ESPN NBA Insider Ric Bucher shares what he's been hearing about Dwight Howard and comments on how social media has changed the dynamic of NBA transactions. Listen

Miami Heat guard Mario Chalmers says it's a good feeling to be called "champ." Plus, Chalmers says anytime he has a tough game, he spends extra time working so he's ready for the next opportunity. Listen

Plus, check out the podcast to hear ESPN's Dan Shulman talk about how big of a talent Mike Trout is and how the Nationals may not be telling the whole truth when they say they are sticking to Steven Strasburg's innings count. Shulman also says that the Pirates and the White Sox in first place are the two biggest surprises of the year. Listen

PODCASTS
Ryen Russillo brings his own flavor to the game, mixing some pop culture with the latest happenings.