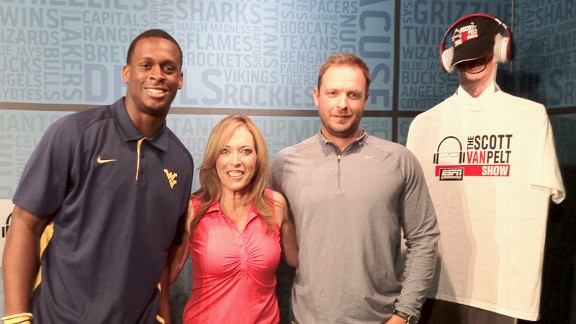 ESPN RadioWVU QB Geno Smith joins Linda Cohn and Ryen Russillo in studio.
Hosted by Ryen Russillo and Linda Cohn
West Virginia QB Geno Smith talks about putting up 70 points against Clemson in the bowl game to close last season and how they'll build upon that heading into this season. Listen

A's manager Bob Melvin says their pitching has really been a force for them. Melvin also says they scout a little differently in Oakland and it's helped them continue to put together good rotations. Listen

USA Today's Bob Nightengale talks about the market for Brewers pitcher Zack Greinke and GM Doug Melvin's decision to reveal their looking to trade him publicly. Listen

ESPN basketball analyst Fran Fraschilla describes Team USA's preparations for the Olympics and talks about the strategies that coaches use in exhibitions. Listen

Tennessee Volunteers coach Derek Dooley shares his thoughts on the SEC and his QB Tyler Bray. Listen

PODCASTS
Ryen Russillo brings his own flavor to the game, mixing some pop culture with the latest happenings.