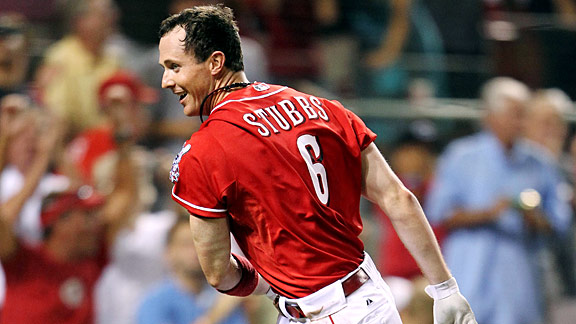 Andy Lyons/Getty ImagesReds outfielder Drew Stubbs is the reigning NL Co-Player of the Week
Scott Van Pelt flying solo
Reds OF Drew Stubbs was named NL Player of the Week with a powerful bat and talked about playing with Joey Votto. The trade deadline is a scary day but he is happy his team has made some moves to bolster their team. Listen

ESPN MLB Insider Tim Kurkjian talks about Philadelphia's decision to sell at the deadline, whether or not the Nationals will make a major splash and the biggest moves still on the horizon as the deadline looms. Listen

ESPN MLB writer Jerry Crasnick discusses the trades that are going down to the wire as the deadline looms, the Phillies' decision to sell and the aggressive approach employed by the Dodgers at the deadline. Listen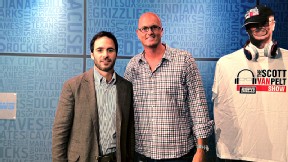 ESPN RadioJimmie Johnson joins Scott in studio.
Five-time Sprint Cup champion Jimmie Johnson discusses the thrill of winning the Brickyard 400, his lofty career goals and how he's evolved as a driver over the years. Listen

ESPN.com NFC South blogger Pat Yasinskas discusses the criticism of Roger Goodell by Saints QB Drew Brees and breaks down the rest of the division. Listen

ESPN.com AFC South blogger Paul Kuharsky takes a look at the division and says the Texans should finish on top. Listen

One Big Thing - Scott Van Pelt talks about the support that Penn State's fans are showing for the school's football squad. Listen

PODCASTS
Will Cain gives you his unfiltered take on the biggest stories in the sports world.