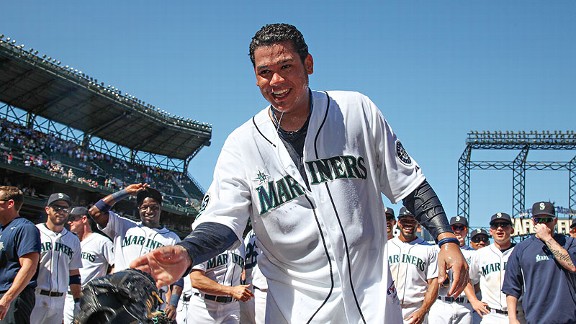 Otto Greule Jr/Getty ImagesFelix Hernandez's perfect game is the latest example of pitching's recent dominance in the Majors.
With Ryen Russillo and Kevin Negandhi
Perfection for King Felix - Ryen Russillo and Kevin Negandhi talk about Felix Hernandez's perfect game, his place amongst the elite pitchers in baseball and the reasons for pitching dominance this season. Listen

USA Today's Bob Nightengale talks about steroid use in baseball, his conversation with BALCO founder Victor Conte and weighs in on Felix Hernandez's perfect game. Listen

ESPN's Michael Wilbon talks about the impact perfect games are having on baseball. Wilbon also weighs in on what he expects to see out of Andrew Bynum in Philadelphia and the top NFL storylines. Listen

Top five NFL storylines - Ryen Russillo and Kevin Negandhi go through their top five storylines as the NFL's regular season nears. Listen

ESPN NFL analyst Tim Hasselbeck goes around the NFL and talks about the QB battle in Tennessee, Jason Witten's injury, rookie QBs and the impact of 'Hard Knocks' on a team's psyche. Listen

Best chance to finish on top - Ryen Russillo and Kevin Negandhi debate about which teams have the best chance to win the BCS National Championship. Listen

What do the Irish deserve? - Ryen Russillo and Kevin Negandhi weigh in on the war of words between Mike Golic and Rick Reilly over the state of Notre Dame football. Listen

And the children danced! - ESPN Deportes legend and friend of the show Kenneth Garay helps Ryen Russillo break down USA's soccer victory over Mexico. Listen

PODCASTS
Ryen Russillo and Danny Kanell bring their own flavor to the game, mixing some pop culture with the latest happenings.