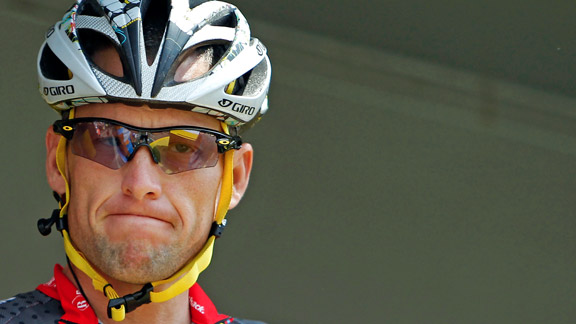 AP Photo/Christophe EnaUSADA CEO Travis Tygart joined the show to talk about the case against Lance Armstrong.
With Ryen Russillo and Jonathan Coachman
USADA CEO Travis Tygart talks about the case his agency had constructed against Lance Armstrong, why this is happening now and what's next for the case. Listen

Throwing in the towel - Ryen Russillo and Jonathan Coachman discuss Lance Armstrong's decision to stop fighting doping allegations, what this does to his legacy and if the USADA went too far. Listen

ESPN NFL analyst Tim Hasselbeck talks about the QB battle in Arizona, the infusion of young QBs in the league and Jim Irsay's tweets. Listen

ESPNChicago's Jeff Dickerson discusses the prognosis for Brian Urlacher, Matt Forte's impact thus far in the preseason and more. Listen

ESPN college football reporter Brett McMurphy talks about who will be starting at QB for Oregon, if the Ducks could take the Pac 12 and who has the best shot to win the national title. Listen

PODCASTS
Will Cain gives you his unfiltered take on the biggest stories in the sports world.