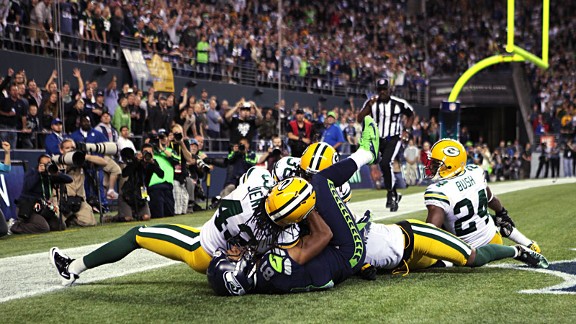 Otto Greule Jr/Getty ImagesThe ruling that Golden Tate had possession on Monday night's final play has the sports world abuzz.
Tuesday's "Scott Van Pelt Show" was loaded with discussion revolving around Seattle's controversial win over the Packers on Monday night. Even entertainment mogul Snoop Lion weighed in on the play! Check out the highlights of the show below!
The last straw? - Scott Van Pelt and Ryen Russillo discuss yet another debacle with the NFL refs as a controversial call at the end of Seattle's win over Green Bay has the entire league buzzing. Listen

ESPN NFL analyst Hugh Douglas weighs in on Monday night's controversial final play. Douglas says that although the refs made the wrong call, the Packers had plenty of chances to end the game before it even got to that point. Listen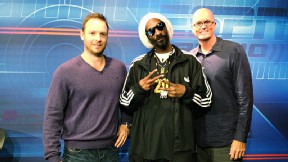 Ray Necci/ESPN RadioSnoop Lion joins Scott and Ryen in studio.
ESPN NFL analyst Trent Dilfer gives his perspective on the result of Monday's game between the Seahawks and Packers. Dilfer says the integrity of the league is in serious jeopardy due to recent events. Listen

Snoop Lion AKA Snoop Dogg discusses the performance of the NFL's replacement officials and gives some insight into his legendary rap career. Listen

Vikings punter Chris Kluwe says even the Vikings recognize that the Packers caught a tough break at the end of Monday night's game. Kluwe also talks about Minnesota's big win over the 49ers and if the Vikings can make a serious run this season. Listen

With Week 3 now in the books, Scott Van Pelt and Ryen Russillo rank the best and worst teams in the NFL with their Top 5/Bottom 3. Listen

ESPN MLB Insider Tim Kurkjian talks about Adam Dunn's enormous home run last night, the Tigers' chances to make a final push, if the Angels can make a postseason impact and Ozzie Guillen's future in Miami. Listen

PODCASTS
Ryen Russillo brings his own flavor to the game, mixing some pop culture with the latest happenings.