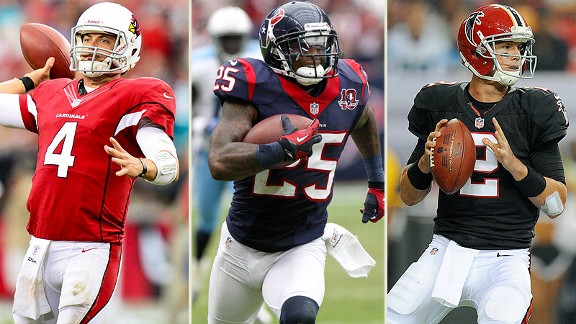 US PresswireThe Cardinals, Texans and Falcons remain unblemished at the quarter mark of the NFL season.
After an incredible weekend in the world of Sports, Scott Van Pelt and Ryen Russillo recapped it all on Monday's show. Van Pelt and Russillo took inventory of some of the NFL's most intriguing teams at the quarter pole of the season and relived an incredible finish at the Ryder Cup. Check out the best highlights from the show below!
NFL's quarter pole - Scott Van Pelt and Ryen Russillo take a look at some of the NFL's most interesting teams a quarter of the way through the season including the Cardinals, Texans, Falcons and Jets. Listen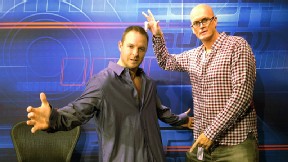 ESPN Radio/Ray Necci Scott and Ryen bring style to the airwaves.
Ryder Cup drama - Scott Van Pelt and Ryen Russillo look back at Europe's incredible comeback in the Ryder Cup and discuss what the result means for the legacies of several golfers. Listen

ESPN NFL analyst Tim Hasselbeck examines another dominant performance by the Texans, explains what's going wrong with the Jets and breaks down yet another close win by the Eagles. Listen

ESPN college football analyst Jesse Palmer talks about an incredible offensive performance by West Virginia, the flaws of LSU, if the Pac-12 is getting enough respect and more. Listen

ESPN's Mike Tirico previews Monday night's game between the Cowboys and Bears, talks about calling his 100th "MNF" game and talks about Europe's amazing comeback on Sunday in the Ryder Cup. Listen

. Also check out Tirico's "Monday Night Football Preview" podcast. MNF preview

PODCASTS
Will Cain gives you his unfiltered take on the biggest stories in the sports world.