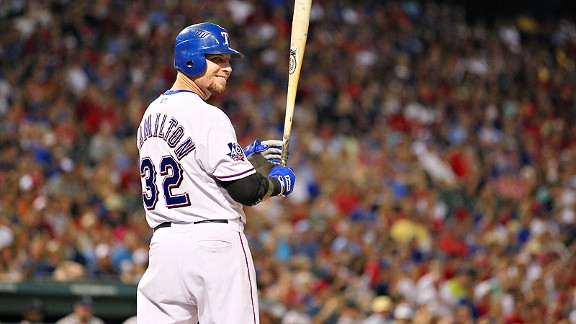 Matthew Emmons/US PresswireTexas Rangers GM Jon Daniels says he'll examine re-signing Josh Hamilton after the season.
It was an action-packed Friday on SVP & Russillo as Scott Van Pelt and Ryen Russillo prepared for a big football weekend and looked forward to the start of the MLB playoffs. Check out the best highlights of the show below!
Rangers GM Jon Daniels discusses tonight's game against the Orioles, the team's level of disappointment after not winning the division, the future of Josh Hamilton in Texas and more. Listen

Playoff time - Scott Van Pelt and Ryen Russillo react to Bobby Valentine's comments after being fired in Boston and look forward to today's MLB wild-card matchups. Listen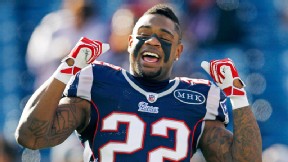 AP Photo/Elise AmendolaStevan Ridley is excited to play the Broncos.
Patriots RB Stevan Ridley talks about New England's dominant 2nd half against the Bills' last weekend, his role in the Patriots' backfield and this weekend's big game against the Broncos. Listen

Scott Van Pelt and Ryen Russillo look into their crystal ball in an attempt to write Monday's headlines on Friday. Listen

Best win/worst loss - Scott Van Pelt and Ryen Russillo recap the Rams' win over the Cardinals on Thursday night and discuss which teams could suffer the toughest losses or get the biggest wins this weekend. Listen

ESPN NFL analyst Damien Woody weighs in on some of the premiere matchups of the NFL weekend, his personal memories from Brady vs. Manning and much more. Listen

ESPN.com director of college scouting Todd McShay breaks down the premiere college football matchups of the weekend and discusses the incredible season West Virginia's Geno Smith has had so far. Listen

Winners! - Keep up with Scott and Ryen's picks in this week's edition of Winners »
PODCASTS
Will Cain gives you his unfiltered take on the biggest stories in the sports world.