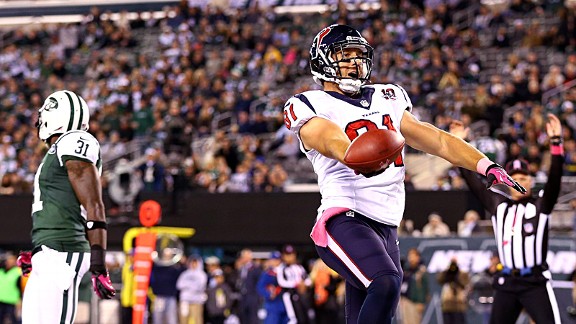 Al Bello/Getty ImagesHouston gets a win over the Jets on Monday night, where do SVP & Russillo rank the Texans?
On Tuesday, Scott Van Pelt and Ryen Russillo broke down another loss for the Jets, unveil their latest NFL rankings and delve into the MLB playoffs. Check out the best highlights of the show below!
Jets remain grounded - Scott Van Pelt and Ryen Russillo discuss Houston's win over the Jets and say that ultimately the Jets simply don't have the pieces to compete this year. Listen

O's even it up - Scott Van Pelt and Ryen Russillo talk about the Orioles evening the series against the Yankees and wonder if Alex Rodriguez should be moved down in New York's lineup. Listen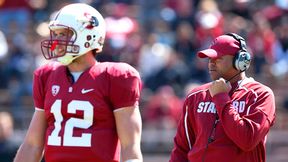 Kyle Terada/US PreswireDavid Shaw is proud of Andrew Luck's progression.
Stanford coach David Shaw discusses his team's shootout win over Arizona, this week's matchup against Notre Dame, the continued challenge of replacing Andrew Luck, and Luck's progression at the next level. Listen

ESPN NFL Insider Chris Mortensen talks about the Patriots' new offensive attack, Houston's rise to the top of the NFL, San Francisco's recent run of dominance, Cam Newton's frustrations and much more. Listen

Scott Van Pelt and Ryen Russillo rank the best and worst teams in the NFL in this week's edition of Top 5/Bottom 3. Listen

ESPN MLB Insider Tim Kurkjian weighs in on the A's chances to come back against the Tigers, the sloppy play thus far in the postseason, Alex Rodriguez's struggles, Carlos Beltran's continued playoff success and more. Listen

One Big thing - Scott Van Pelt and Ryen Russillo discuss the sentencing of Jerry Sandusky and wonder why the judge in the case didn't give Sandusky more years even though it is still effectively a life sentence. Listen

Actor David Koechner talks about his love of sports, his work on Anchorman 2 and his favorite roles throughout his career. Listen

PODCASTS
Ryen Russillo and Danny Kanell bring their own flavor to the game, mixing some pop culture with the latest happenings.