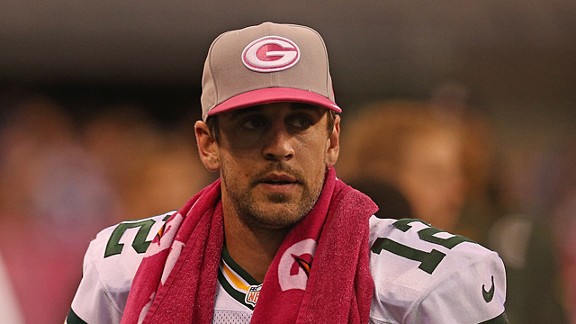 Jonathan Daniel/Getty ImagesAaron Rodgers and the Packers made a statement with their big win over the Texans Sunday night.
On Monday's show, Scott Van Pelt and Ryen Russillo looked back at an extremely significant Sunday in the NFL, dissected the picks they made going into the weekend and kept tabs on the two championshp series in MLB. Check out the best highlights of the show below!
Surprising wins and losses - Scott Van Pelt and Ryen Russillo break down an extremely impressive win for the Packers as well as a loss by the Patriots that has many people scratching their heads. Listen

Florida coach Will Muschamp talks about his team's rise up the rankings this year, the skill of QB Jeff Driskell, the progress made by the team's defense and much more. Listen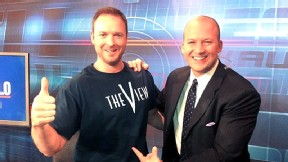 ESPN Radio/Ray NecciTim Hasselbeck appreciates Ryen's wardrobe.
ESPN NFL analyst Tim Hasselbeck discusses the terrible clock mismanagement by the Cowboys' coaching staff, the Seahawks comeback win over the Patriots and the Giants' dominant win over the 49ers. Listen

ESPN college football reporter Brett McMurphy breaks down the first release of the BCS standings, which teams will still be at the top when the season ends and discusses if Gene Chizik's job is in danger at Auburn. Listen

ESPN's Mike Tirico talks about the games he took the most away from this weekend and helps Scott and Ryen preview Monday night's game between the Chargers and Broncos. Listen

. For more of a preview of Monday night's game and a conversation with Broncos LB Von Miller check out "Mike Tirico's Monday Night Football Preview" podcast. MNF Preview

New York, New York - Scott Van Pelt and Ryen Russillo talk about the Giants' big win over the 49ers on Sunday and discuss the rough shape the Yankees appear to be in after yet another loss to the Tigers in the ALCS. Listen

One Big Thing - Scott Van Pelt and Ryen Russillo talk about the underwhelming effort submitted by both the Yankees and their fans through the first two games of the ALCS. Listen

After Friday's predictions, Scott Van Pelt and Ryen Russillo evaluate their performance as they write Monday's headlines on...Monday. Listen

PODCASTS
Will Cain gives you his unfiltered take on the biggest stories in the sports world.