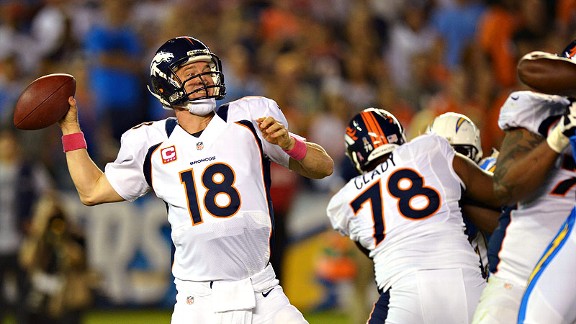 Jake Roth/US PresswirePeyton Manning led the Broncos back from a 24 point deficit against the Chargers on Monday night.
On Tuesday's show, Scott Van Pelt broke down an enormous comeback on "Monday Night Football," shakeups in the NFL and all the latest in the MLB playoffs. Check out the best highlights of the show below!
Monday mayhem - Scott Van Pelt breaks down the Broncos' epic comeback over the Chargers on Monday night and also comments on the dismissal of Mike Holmgren in Cleveland. Listen

97.5 the Fanatic's Mike Missanelli chats with Scott Van Pelt about the Eagles' decision to fire defensive coordinator Juan Castillo. Missanelli also talks about what this means for Andy Reid's future in Philadelphia. Listen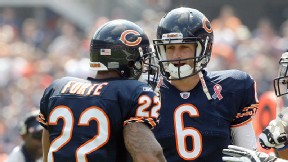 AP Photo/Nam Y. HuhMatt Forte says he loves playing with Jay Cutler.
Bears RB Matt Forte discusses the Bears' strong start, the strength of the NFC North, the unfair scrutiny he believes Jay Cutler is receiving and much more. Listen

Giants P Steve Weatherford chats about New York's big win over the 49ers, how they'll keep the momentum going against the Redskins, the unique nature of the Giants organization and more. Listen

ESPN NFL analyst Trent Dilfer talks about the Broncos' incredible comeback over the Chargers on Monday Night Football, the continued failures of the Chargers in big games and the perceived mediocrity of nearly every team in the AFC. Listen

Scott Van Pelt unveils his rankings at the top and bottom of the NFL food chain in this week's edition of the Top 5/Bottom 3. Listen

Sports Illustrated's Andy Staples talks about who is truly the 2nd best team in the country, the strengths of Florida and the recent struggles of Texas in big games. Listen

ESPN MLB Insider Tim Kurkjian says the Yankees hopes against the Tigers are dimming. Kurkjian also says that there is definitely bad blood developing between the Cardinals and Giants but doesn't expect anything to manifest itself this series. Listen

PODCASTS
Ryen Russillo brings his own flavor to the game, mixing some pop culture with the latest happenings.