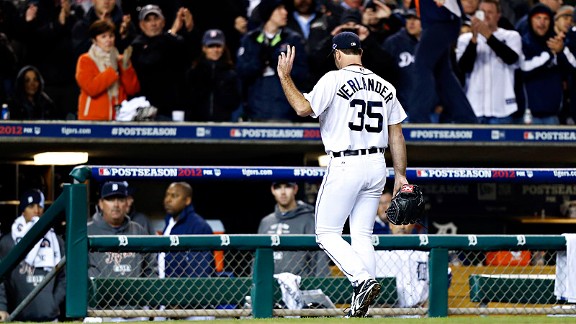 Rick Osentoski/USA TODAY SportsScott Van Pelt says the focus should be on the Tigers' success, not the Yankees' failure in the ALCS.
Wednesday, Scott Van Pelt broke down another underwhelming performance by the Yankees, discussed Nike's decision to part ways with Lance Armstrong and handed out some college football mid-season awards. Check out the best highlights of the show below!
Tigers roar - Scott Van Pelt says that people should be giving credit to the Tigers instead of being fixated on the failures of the Yankees in the ALCS. Van Pelt notes that the Yankees simply weren't very dominant against contenders all year. Listen

ESPN MLB Insider Buster Olney talks about the Yankees' chances to avoid the sweep against the Tigers, what it will mean for the Yankees in the future, who has the edge in the NLCS and more. Listen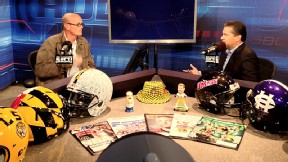 Ray Necci/ESPN Radio UK's John Calipari joins Scott Van Pelt in studio.
Kentucky coach John Calipari discusses the Wildcats' title last season, rebuilding after losing all five starters, the depth of the SEC in basketball and much more. Listen

Notre Dame linebacker Manti Te'o chats about his team's incredible goal-line stand against Stanford, The Irish's undefeated record and his ability to overcome personal loss this season. Listen

Halfway through the season, Scott Van Pelt unveils his college football midseason awards. Listen

ESPN NFL analyst Mark Schlereth talks about the lack of killer instinct he saw from the Chargers, the problems presented by the injuries in Baltimore, the youth of the Patriots and more. Listen

Pro Football Weekly's Eric Edholm discusses if the Falcons are as good as their record would indicate, the enormous impact of the Ravens' multiple injuries, Seattle's ability to win close games and much more. Listen

One Big Thing - Scott Van Pelt talks about Nike's decision to distance itself from Lance Armstrong and how Armstrong effectively misled the public for so many years. Listen

PODCASTS
Will Cain gives you his unfiltered take on the biggest stories in the sports world.