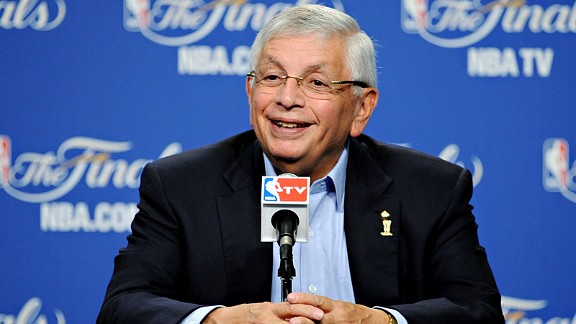 Garrett W. Ellwood/Getty ImagesDavid Stern has announced that he will retire as NBA commissioner effective February 1, 2014.
On Thursday's show, Bram Weinstein and Mike Hill discussed David Stern's retirement announcement, kept tabs on the World Series and began looking forward to Week 8 in the NFL. Listen to the best highlights of the show below!
Stern announces retirement - Moments after David Stern announced his retirement effective February 1, 2014, Bram Weinstein and Mike Hill discuss what Stern's lasting legacy will be as NBA commissioner. Listen

ESPN NBA analyst Tim Legler says David Stern could go down as the best commissioner in the history of team sports. Legler adds that the evolution and growth of the league during Stern's tenure is unprecedented. Listen

ESPN the Magazine's Chad Millman weighs in on David Stern's retirement announcement, discusses the magazine's latest issue and previews the upcoming NBA season. Listen

ESPN MLB Insider Jayson Stark discusses Pablo Sandoval's incredible Game 1 performance, how much the Tigers are hurt by losing Justin Verlander's start and his expectations for Game 2. Listen

ESPN NFL analyst Lomas Brown talks about the factor race plays in the criticism of Cam Newton, which teams will separate themselves from the pack in both the AFC and NFC and much more. Listen

PODCASTS
Ryen Russillo brings his own flavor to the game, mixing some pop culture with the latest happenings.