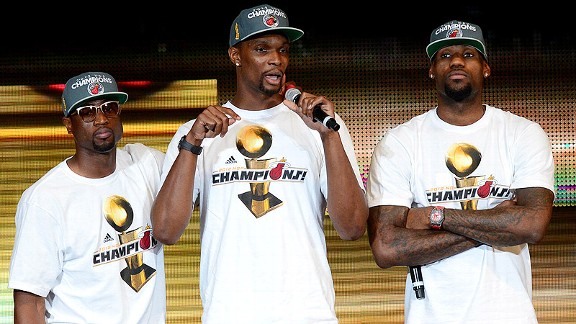 Steve Mitchell/US Presswire"SVP & Russillo" discuss whether or not the Heat can win another NBA championship this season.
Tuesday, Scott Van Pelt and Ryen Russillo prepared for the start of the NBA season, discussed NFL coaches on the hot seat and much more. Listen to the best highlights of the show below!
NBA tip-off - Scott Van Pelt and Ryen Russillo discuss the start of the NBA season and forecast some of the top storylines as the season begins on Tuesday night. Listen

Seat heat - Scott Van Pelt and Ryen Russillo talk about several NFL coaches who are starting to feel the heat and wonder which ones may be out the door sooner rather than later. Listen

ESPN NFL analyst Herm Edwards gives his thoughts on Andy Reid's job status, makes a case for Tim Tebow to get a shot in New York and talks about the challenges of managing the egos on a successful squad. Listen

ESPN NFL analyst Trent Dilfer weighs in on the confidence the 49ers have in themselves, what continues to go wrong in Philadelphia and explores the weaknesses of some of the league's best teams. Listen

Scott Van Pelt and Ryen Russillo take inventory of the best and worst teams the NFL has to offer in their weekly Top 5/Bottom 3 rankings. Listen

ESPN MLB Insider Tim Kurkjian looks back on the Giants' dominant World Series performance and forecasts the baseball hot stove including what the future holds for Alex Rodriguez and Josh Hamilton. Listen

ESPN's Wright Thompson discusses the latest 30 for 30 film "The Ghosts of Ole Miss." Thompson explains the circumstances behind the film and what the events at Ole Miss in the early 1960's still mean both within and outside of the sports context. Listen

PODCASTS
Ryen Russillo and Danny Kanell bring their own flavor to the game, mixing some pop culture with the latest happenings.