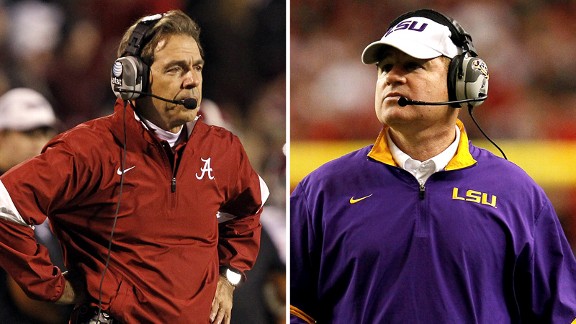 Getty ImagesScott Van Pelt joins the show to help break down Saturday's Alabama vs. LSU matchup.
Thursday, Chris Cotter and Bram Weinstein talked about the struggling Lakers, discuss if Alabama could beat an NFL team and much more. Listen to the best highlights of the show below!
Scott Van Pelt joins the show from the College Gameday bus to discuss the upcoming matchup between LSU and Alabama. Van Pelt says Alabama is a very confident team but LSU isn't backing down. SVP also warns against underestimating LSU on their home field. Listen

ESPN NFL analyst Damien Woody weighs in on whether Alabama could be competitive against an NFL team, talks about what Cam Newton needs to do to turn his season around and predicts the Dolphins could make a serious playoff push. Listen

Actor Tim Allen chats about the Tigers' loss in the World Series, being a Detroit sports fan, his disappointment in the NHL lockout, his acting career and much more. Listen

ESPN LA 710's Beto Duran says Laker fans are alarmed by LA's slow start. Duran is trying to be the voice of reason but fans are starting to lose patience with Mike Brown and the Laker attack. Listen

ESPN college football analyst David Pollack says Alabama might be able to keep it close against the Jaguars. Pollack also talks about how the BCS is shaking out and claims Oregon is the only team that could compete with Alabama in a championship game. Listen

PODCASTS
Ryen Russillo brings his own flavor to the game, mixing some pop culture with the latest happenings.