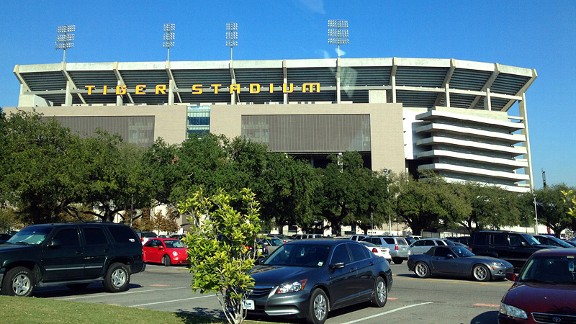 ESPN Radio SVP & Russillo: Broadcasting from Walk On's outside of Tiger Stadium in Baton Rouge, LA.
Friday, Scott Van Pelt and Ryen Russillo prepared for a huge weekend in college football and the NFL, discussed the controversy surrounding the New York Marathon and much more. Listen to the best highlights of the show below!
LSU coach Les Miles chats about the help his team gets from the crowd at Tiger Stadium, LSU's game plan against Alabama and what must happen for the Tigers to upset the Tide on Saturday night. Listen

Game of the Year - Scott Van Pelt and Ryen Russillo describe the electric environment in Baton Rouge and talk about the importance of Saturday night's game between Alabama and LSU. Listen

To run or not to run - Scott Van Pelt and Ryen Russillo debate the decision to run the New York Marathon and wonder if it's the most appropriate thing to do considering the circumstances. SVP & Russillo also wonder if the Giants game against the Steelers should be moved or postponed. Listen

Sports Illustrated's Andy Staples describes the environment at Tiger Stadium, marvels at Alabama's ability to dominate the competition this season and also weighs in on the weekend's other big game: Oregon at USC. Listen

ESPN.com director of college scouting Todd McShay helps to break down the LSU vs. Alabama matchup. McShay says LSU must play mistake-free football to have a chance against Alabama but must also take some chances down the field. McShay also says USC must clean up their mistakes if they hope to beat Oregon. Listen

Scott Van Pelt and Ryen Russillo look into their crystal ball in an attempt to write Monday's Headlines on Friday. Listen

Quarter pole draft part 2 - Scott Van Pelt and Ryen Russillo pick their teams in the second installment of the NFL quarter pole draft »
ESPN NFL analyst Lomas Brown expects the Steelers to have a difficult time against the Giants due to having to travel to New Jersey on game day. Brown also weighs in on Michael Vick holding a team meeting in Philadelphia and says he still has some doubts about the Falcons' ability to beat a tough opponent. Listen

Winners! - Keep up with Scott and Ryen's picks in this week's edition of Winners »
Scott Van Pelt and Ryen Russillo check out the Week 9 slate in the NFL and determine the Best Win, Worst Loss. Listen

PODCASTS
Ryen Russillo brings his own flavor to the game, mixing some pop culture with the latest happenings.