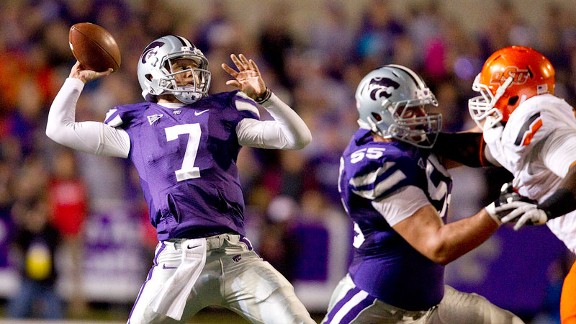 Shane Keyser/Getty ImagesScott Van Pelt and Ryen Russillo say Kansas State QB Collin Klein is the Heisman frontrunner.
On Wednesday's show, Scott Van Pelt and Ryen Russillo debated who should win the Heisman, discussed if Jerry Jones has too much power in Dallas and much more. Listen to the best highlights of the show below!
Heisman contenters - Scott Van Pelt and Ryen Russillo discuss who'd get their vote for the Heisman Trophy, what the proper criteria should be for winning the award and who will eventually take the Heisman home this season. Listen

ESPN Radio's Mike Golic talks about Notre Dame's chances to make the BCS Championship game, having a pair of sons on the squad and whether he agrees with Brian Kelly's decision to comment on the rankings. Listen

ESPN Dallas 103.3 FM's Matt Mosley comments on Jerry Jones' statement about not giving up any power in Dallas. Mosley says Jones has become the face of the Cowboys' recent failure but he will continue to make the final decisions. Mosley also says Sean Payton would fit perfectly in Dallas but doubts it will happen. Listen

ESPN NFL analyst Herm Edwards talks about the coaches in the NFL which have exceeded expectations this season, Sean Payton's contract situation, the toughest places to coach and much more. Listen

PODCASTS
Will Cain gives you his unfiltered take on the biggest stories in the sports world.