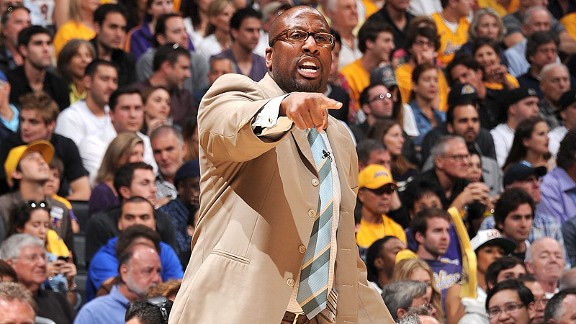 Andrew D. Bernstein/NBAE/Getty ImagesRyen Russillo and Bram Weinstein react to the news that the Lakers have fired Mike Brown.
Friday, Ryen Russillo and Bram Weinstein broke down Mike Brown's firing, reviewed the Colts' win over the Jaguars and prepared for a huge week on the gridiron. Listen to the best highlights of the show below!
Brown fired - Ryen Russillo and Bram Weinstein discuss the Lakers' decision to fire Mike Brown, speculate why the decision was made now and talk about who might take over for Brown in LA. Listen

ESPN LA 710's Beto Duran says Mike Brown was starting to lose some of the players in the locker room. Duran adds that players weren't comfortable with Brown's system and speculates who might take over as LA's coach. Listen

ESPN NBA analyst Kurt Rambis gives his thoughts on why Mike Brown was unsuccessful in LA, breaks down the type of system which would work with the Lakers and speculates on who might be the best candidates to replace Brown. Listen

ESPNLA.com's Dave McMenamin talks about the Lakers' reaction to the firing of Mike Brown, discusses the possible replacements for Brown and says although it's unlikely, Phil Jackson would be the best fit with this group. Listen

Grantland.com's Bill Simmons says he isn't shocked by Mike Brown's dismissal in Los Angeles and suggests who might be a good fit to replace Brown. Listen

ESPN NFL analyst Tedy Bruschi helps preview this weekend's matchup between the Bears and Texans, looks forward to some of Week 10's other big games and talks about who he'd draft first if he were starting a new franchise. Listen

Ryen Russillo and Bram Weinstein peer into their crystal ball in an attempt to write Monday's Headlines on Friday. Listen

Winners! - Keep up with Scott and Ryen's picks in this week's edition of Winners »
PODCASTS
Ryen Russillo and Danny Kanell bring their own flavor to the game, mixing some pop culture with the latest happenings.