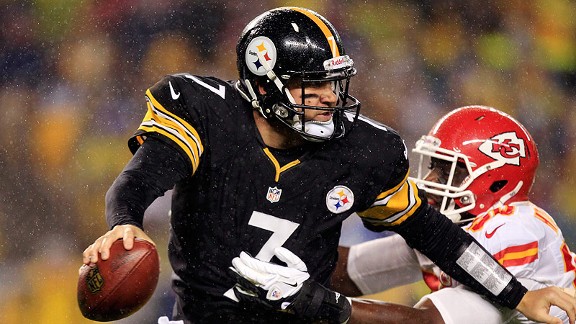 AP Photo/Gene J. PuskarMarcellus Wiley talks about how much Ben Roethlisberger's injury will hurt the Steelers.
Tuesday, Ryen Russillo, Kevin Negandhi and Bill Simmons talked about Ben Roethlisberger's injury, the continued drama in Los Angeles, the BCS Playoff system and much more. Listen to the best highlights of the show below!
Big Ben hurt - Ryen Russillo and Kevin Negandhi talk about the injury Ben Roethlisberger sustained on Monday night, what this does to the Steelers' playoff positioning and if Byron Leftwich can handle the squad capably. Listen

ESPN NFL analyst Marcellus Wiley weighs in on the impact Ben Roethlisberger's injury will have on the Steelers, talks about yet another disappointing season in San Diego and discusses which backup quarterbacks give their teams the best chance to win. Listen

ESPN NFL analyst Trent Dilfer talks about his experiences suffering the same injury Ben Roethlisberger endured Monday night, how the injury will impact the Steelers, and which backup quarterback gives his team the best chance to succeed. Listen

Grantland.com's Bill Simmons joins Ryen Russillo for a fun-filled hour talking about the drama in Los Angeles, the chances the Heat will repeat as NBA champions and Bill's beloved Patriots. Listen

PODCASTS
Ryen Russillo brings his own flavor to the game, mixing some pop culture with the latest happenings.