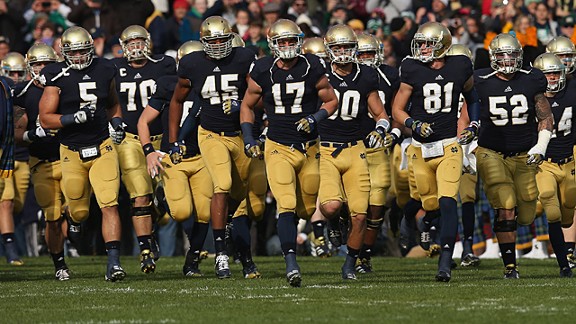 Jonathan Daniel/Getty ImagesAfter a crazy weekend on the college gridiron, Notre Dame takes over the top BCS ranking.
Monday, Scott Van Pelt and Ryen Russillo discussed a crazy weekend in college football, a bad break for the Patriots and much more. Listen to the best highlights of the show below!
Upset Saturday - Scott Van Pelt and Ryen Russillo break down how each of the nation's top two teams fell on Saturday night and discuss the resulting National Championship implications. Listen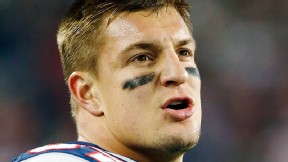 AP Photo/Michael DwyerSVP & Russillo discuss Rob Gronkowski's injury.
Bad break - Scott Van Pelt and Ryen Russillo talk about Rob Gronkowski's broken forearm and wonder if Gronkowski should have still been playing. SVP & Russillo also discuss how several teams nearly avoided major upsets. Listen

ESPN NFL analyst Eric Mangini says the Patriots did nothing wrong by having Rob Gronkowski on the field late in their victory over the Colts. Mangini also talks about some of the teams who struggled with seemingly weaker opponents and says it's not unusual for squads to have lulls this time of year. Listen

ESPN college football analyst Jesse Palmer breaks down the weekend's monumental upsets, weighs in on some of the likely national championship matchups and gives his thoughts on who has taken over as the favorite for the Heisman Trophy. Listen

ESPN's Mike Tirico previews the Monday Night Football matchup between the Bears and 49ers, offers his thoughts on Rob Gronkowski's injury and much more. Listen

NFL Network's Kurt Warner says he's surprised the Patriots' starters were still in the game in the late stages against the Colts. Warner also says Peyton Manning's performance this season is unprecedented and talks about his own history with concussions. Listen

One Big Thing - Scott Van Pelt expresses his emotions as his alma mater, the University of Maryland, has announced that it will move to the Big Ten. Van Pelt says that although he is sad the Terps will no longer be a member of the ACC, the classic ACC has been dead for many years. Listen

NASCAR Sprint Cup champion Brad Keselowski reflects on his first championship, relives the celebration he had on Sunday night and much more from a whirlwind weekend. Listen

PODCASTS
Ryen Russillo brings his own flavor to the game, mixing some pop culture with the latest happenings.