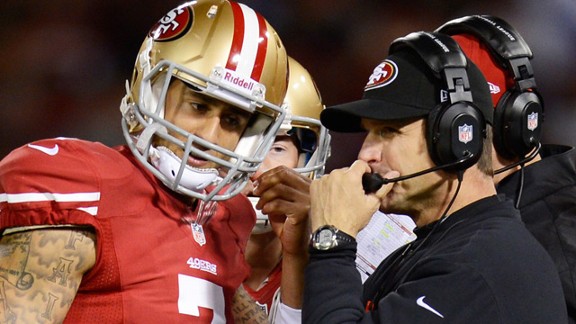 Thearon W. Henderson/Getty ImagesColin Kaepernick says he'd love to be the starter, but knows the decision is Jim Harbaugh's.
Tuesday, Ryen Russillo and Adnan Virk discussed a dominant performance by Colin Kaepernick and the 49ers, the suspension of Ed Reed and much more. Listen to the best highlights of the show below!
49ers quarterback Colin Kaepernick talks about his performance against the Bears on Monday night. Kaepernick says he'd like to be the starter moving forward but acknowledges that the decision is Jim Harbaugh's. Listen

ESPN NFL analyst Trent Dilfer says Colin Kaepernick's performance on Monday night was outstanding. Dilfer adds that Jim Harbaugh never should have opened the door to starting a quarterback controversy in his postgame press conference. Listen

ESPN BCS expert Brad Edwards talks about the scenarios this weekend which could lead to different BCS Championship Game matchups. Edwards says that although it's not likely, it's possible that the title game could feature a pair of SEC squads. Listen

Sports Illustrated's Andy Staples says Notre Dame matches up better with an SEC opponent than they do with Oregon. Staples adds that people shouldn't assume that Alabama will easily get past Georgia in the SEC Championship Game. Listen

ESPN NFL analyst Darren Woodson weighs in on Colin Kaepernick's breakout performance against the Bears, Plaxico Burress signing with the Steelers and says the NFL's suspension of Ed Reed is ridiculous. Listen

Ryen Russillo and Adnan Virk take inventory of the best and worst teams in the NFL in the weekly Top 5/Bottom 3 rankings. Listen

PODCASTS
Ryen Russillo brings his own flavor to the game, mixing some pop culture with the latest happenings.