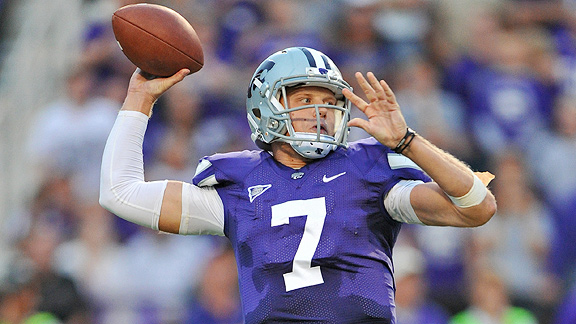 Peter G. Aiken/Getty ImagesKansas State's Collin Klein talks to "SVP & Russillo" about the thrill of being a Heisman Trophy finalist.
Tuesday, Scott Van Pelt and Ryen Russillo discussed an impressive win for the Redskins, the Heisman Trophy finalists and much more. Listen to the best highlights of the show below!
Kansas State quarterback Collin Klein discusses the thrill of being named a Heisman finalist, who'd get his Heisman vote, bouncing back after a tough loss to Baylor and his excitement over winning the Big 12, earning a Fiesta Bowl bid. Listen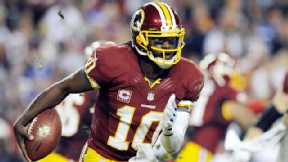 Patrick McDermott/Getty ImagesRobert Griffin III leads the Redskins to a big win.
Big win for 'Skins - Scott Van Pelt and Ryen Russillo break down the Redskins' ability to beat the Giants despite being out-played for most of the game. SVP & Russillo say Washington has put itself in a very favorable spot to win the NFC East as a result of the victory. Listen

Bielema to Arkansas - Scott Van Pelt and Ryen Russillo react to the news that Bret Bielema has accepted the coaching job at Arkansas and discuss how it will impact the coaching carousel. Listen

ESPN NFL analyst Trent Dilfer discusses the Redskins' young core of Robert Griffin III and Alfred Morris, the demise of Philip Rivers, the Ravens' offensive approach and more. Listen

ESPN NFL analyst Tim Hasselbeck talks about the Redskins' offensive attack against the Giants, the talent of Robert Griffin III, who will make the playoffs in the NFC, Michael Vick's future and much more. Listen

Scott Van Pelt and Ryen Russillo take inventory of the best and worst teams in the NFL in their weekly Top 5/Bottom 3 rankings. Listen

ESPN.com college football writer Travis Haney discusses the college football coaching carousel, the most attractive vacancy in the SEC and says Johnny Manziel will easily win the Heisman Trophy on Saturday. Listen

One Big Thing - Scott Van Pelt and Ryen Russillo talk about the Redskins' talented young nucleus as SVP expresses his optimism that the team he grew up rooting for is finally rebuilding appropriately. Listen

PODCASTS
Ryen Russillo and Danny Kanell bring their own flavor to the game, mixing some pop culture with the latest happenings.