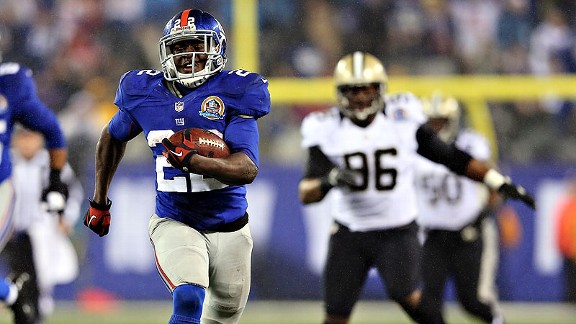 Elsa/Getty ImagesRunning back David Wilson says the Giants are treating every game like a playoff game.
Monday, Scott Van Pelt and Ryen Russillo discussed an enormous Sunday in the NFL, the Monday night showdown between the Patriots and Texans and much more. Listen to the best highlights of the show below!
Giants running back David Wilson talks about his breakout performance against the Saints, says he's been able to regain the trust of his coaches after early fumbling issues and explains that the Giants are treating every game like a playoff game. Listen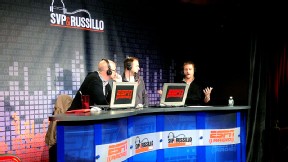 ESPN RadioESPN's Todd McShay joins SVP & Russillo on set.
Big wins in the NFC East - Scott Van Pelt and Ryen Russillo talk about the Giants' statement win over the Saints, the Cowboys' comeback against the Bengals and how Dallas was able to deal with the adversity resulting from the death of teammate Jerry Brown. Listen

ESPN.com director of college scouting Todd McShay reacts to Johnny Manziel winning the Heisman Trophy and admits that he voted for Manti Te'o. McShay also talks about the NFL and believes the Patriots are the best team in the AFC going into this game. Listen

ESPN NFL analyst Eric Allen says Monday night's game means more to the Texans than the Patriots, comments on the Seahawks' blowout of the Cardinals and says both the Ravens and Steelers seem to be sputtering down the stretch. Listen

ESPN's Mike Tirico previews the game between the Texans and Patriots, puts the enormity of the game in perspective from the Texans' point of view, discusses the Ravens' struggles offensively and much more. Listen

ESPNBoston.com's Mike Reiss talks about the experience the veteran members of the Patriots have in big games, the impact Tom Brady's new daughter will have on his play, Brandon Lloyd's reduced role and more. Listen

One Big Thing - Scott Van Pelt and Ryen Russillo discuss last weekend's Army vs. Navy game and explain why it displayed both the best and worst qualities of competition. Listen

PODCASTS
Ryen Russillo and Danny Kanell bring their own flavor to the game, mixing some pop culture with the latest happenings.