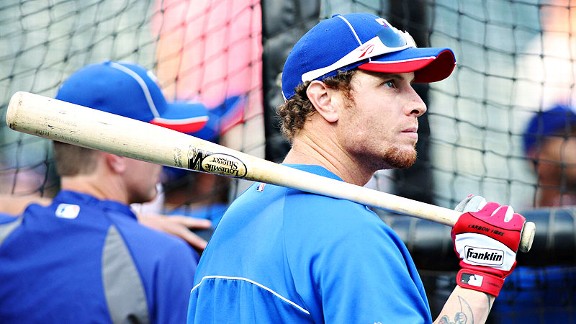 Tim Heitman/USA TODAY SportsBuster Olney talks to SVP & Russillo about Josh Hamilton agreeing to a deal with the Angels.
Thursday, Scott Van Pelt and Ryen Russillo discussed Josh Hamilton signing with the Angels possible playoff expansion in the NFL and more. Listen to the best highlights of the show below!
ESPN MLB Insider Buster Olney reacts to the breaking news of Josh Hamilton signing with the Angels and discusses how the deal came together so quickly. Listen

ESPNDallas.com's Richard Durrett and ESPNLA.com's Mark Saxon offer local perspective on the Josh Hamilton deal and discuss how fans in Dallas and Los Angeles are reacting to the news of the deal. Listen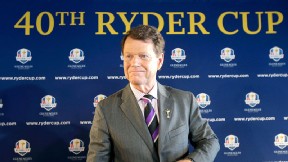 AP Photo/Seth WenigRyder Cup captain Tom Watson joined the show.
Golfer Tom Watson expresses his happiness after being named captain of the United States Ryder Cup squad, discusses the special relationship he has with the people of Scotland and talks about this possibly being the final chapter in his storied career. Listen

Florida coach Billy Donovan comments on the diminished Big East, the influence of football on conference realignment, the Gators' early success this season and much more. Listen

Too much of a good thing? - Scott Van Pelt and Ryen Russillo talk about the possibility of playoff expansion in the NFL and say the league runs the risk of diluting the product if it starts to chase the money that comes along with expansion. Listen

ESPN NFL analyst Jason Taylor says he doesn't have a problem expanding the playoffs as long as preseason games are eliminated. Taylor also talks about the best matchups of the upcoming weekend and says the Patriots and Colts can make the biggest statements. Listen

ESPN the Magazine's Chad Millman discusses the latest issue of the magazine which revolves around the debates surrounding the Hall of Fame, how Vegas treats bowl season and much more. Listen

PODCASTS
Ryen Russillo and Danny Kanell bring their own flavor to the game, mixing some pop culture with the latest happenings.