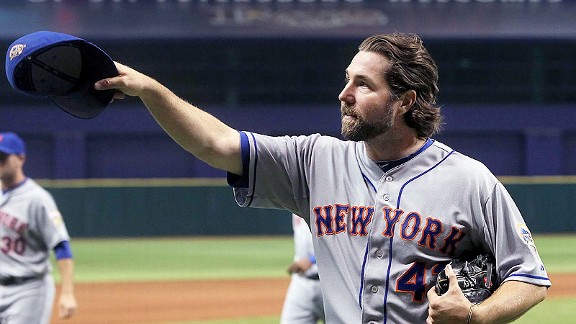 Kim Klement/USA TODAY SportsR.A. Dickey says he enjoyed his time with the Mets but is excited for a new start in Toronto.
Tuesday, Ryen Russillo and Adnan Virk discussed a crucial loss for the Jets, Jim Boeheim's milestone victory and more. Listen to the best highlights of the show below!
Blue Jays pitcher R.A. Dickey talks about being traded from the Mets to the Blue Jays, says he enjoyed his time in New York, responds to questions about whether or not he'll be able to sustain his high level of performance and much more. Listen

Jets grounded - Ryen Russillo and Adnan Virk discuss the Jets' loss to the Titans and Monday night and try to figure out where the organization needs to go in both the short and long-term. Listen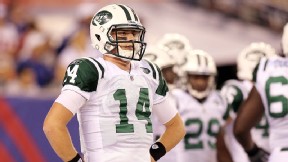 Jim McIsaac/Getty ImagesGreg McElroy has been named Jets starting QB.
McElroy named starter - Ryen Russillo and Adnan Virk react to Greg McElroy being named starting quarterback for the Jets and say New York's roster may need a total overhaul. Listen

ESPN NFL analyst Trent Dilfer gives his thoughts on the Jets' decision to go with McElroy, says the organization has mishandled Sanchez for several years and comments on the Ravens' recent offensive struggles. Listen

Ravens running back Ray Rice and Giants running back Ahmad Bradshaw discuss the Ravens vs. Giants matchup this weekend, the recent struggles of their respective teams, how past experience shapes their approach to the end of the season and more. Listen

ESPN NFL analyst Brian Dawkins says Mark Sanchez is a defeated man and needs to move on from the Jets. Dawkins also comments on the demise of the Bears, the disappointing season in Philadelphia and says he believes Andy Reid could turn things around if given another opportunity. Listen

Thunder guard Russell Westbrook dishes on the dynamic of the club without James Harden, says the relationship between he and Kevin Durant is terrific and notes that the Thunder are taking this season a game at a time and aren't circling any specific games on the calendar. Listen

ESPN NBA analyst Chris Mullin says Raymond Felton, Tyson Chandler and Rasheed Wallace have had an extremely positive impact on the Knicks and thinks the team has the ability to adjust when Amar'e Stoudemire returns to the lineup. Mullin also says it's still too soon to completely evaluate the trade which sent James Harden to the Rockets and comments on Jim Boeheim's 900th win. Listen

PODCASTS
Ryen Russillo brings his own flavor to the game, mixing some pop culture with the latest happenings.