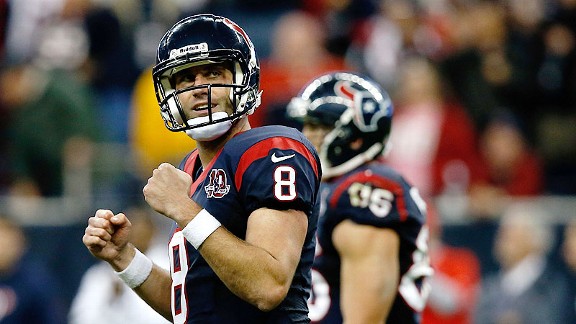 Scott Halleran/Getty ImagesTexans QB Matt Schaub talks about Houston's win and next Sunday's game against the Patriots.
Monday, Scott Van Pelt and Ryen Russillo broke down wild-card weekend, previewed the BCS National Championship and more. Listen to the best highlights of the show below!
Texans quarterback Matt Schaub talks about Houston's win over the Bengals on Saturday, says he feels like the team has corrected the issues it had during the final few weeks of the regular season and discusses Houston's preparations for the team's rematch with the Patriots. Listen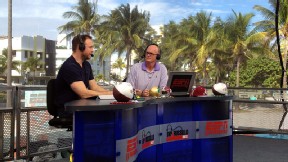 Ray Necci/ESPN Radio Scott Van Pelt & Ryen Russillo on set in Miami.
Former NFL quarterback Archie Manning discusses the job Brian Kelly has done this season, previews the BCS National Championship and talks about his son Peyton's incredible year coming back from injury. Listen

ESPN NFL analyst Eric Mangini says the Seahawks are the most intriguing team headed into the divisional round and explains why they'll cause problems for the Falcons. Mangini also says he would have made the same decision as Mike Shanahan did regarding Robert Griffin III and talks about how the Patriots will avoid resting on their laurels against the Texans. Listen

One Big Thing - ESPN 980's Kevin Sheehan discusses the reaction in Washington to the Redskins' loss and talks about the level of frustration felt regarding Mike Shanahan's decision to stick with Robert Griffin III even after his initial injury. Listen

ESPN college football analyst David Pollack says the BCS National Championship will be won in the trenches, says Notre Dame's defense will have to confuse A.J. McCarron if the Irish hope to win the game and much more. Listen

Still quacking - Scott Van Pelt and Ryen Russillo discuss Chip Kelly's decision to stay at Oregon rather than go to the NFL and ask each other rapid fire questions in another edition of 'Seven Seconds.' Listen

Scott Van Pelt, Ryen Russillo and Colin Cowherd sit down for a discussion on Monday's BCS National Championship and review wild-card weekend in the NFL. Listen

Jimmy Kimmel talks about his show moving to 11:35 p.m., the importance of that time slot, his criticisms of Jay Leno, some of the craziest suggestions he's ever gotten from fans and more. Listen

PODCASTS
Ryen Russillo and Danny Kanell bring their own flavor to the game, mixing some pop culture with the latest happenings.