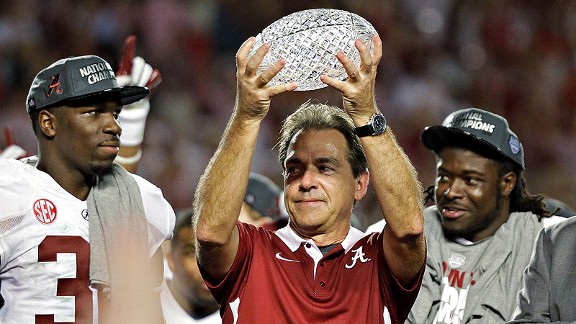 AP Photo/Chris O'MearaScott Van Pelt and Ryen Russillo say the sky's the limit for Nick Saban and Alabama moving forward.
Tuesday, Scott Van Pelt and Ryen Russillo broke down Alabama's dominant win over Notre Dame, examined the conflict between Carmelo Anthony and Kevin Garnett and much more. Listen to the best highlights of the show below!
Alabama quarterback A.J. McCarron talks about winning another national title, what it's like to play for Nick Saban, his recruitment to Oklahoma, starting preparations for next season and much more. Listen

High Tide - Scott Van Pelt and Ryen Russillo discuss Alabama's third championship in the last four years, marvel at the squad's business-like approach and wonder how long this program can continue to dominate college football. Listen

The Paul Finebaum Radio Network's Paul Finebaum breaks down Alabama's win in the national title, says the comparisons between Nick Saban and Bear Bryant are not unfounded, talks about the SEC's continued dominance and more. Listen

ESPN college football analyst Jesse Palmer says Alabama's win was the most dominant title game victory of the BCS era, says Nick Saban could easily be considered the best coach in history, explains why Alabama has never been able to get an elite quarterback under Nick Saban and more. Listen

Sports Illustrated's Andy Staples admits he was shocked by Alabama's dominance, marvels at Nick Saban's approach and says Notre Dame's season will unfortunately be remembered for being crushed by Alabama rather than their terrific regular season. Listen

ESPN NFL analyst Trent Dilfer gives his thoughts on A.J. McCarron's pro potential, comments on the controversy surrounding Robert Griffin III's injury, says the Bears should pursue an offensive minded coach and more. Listen

ESPN NFL analyst Mark Schlereth discusses his experiences playing through injuries, says he doesn't have a problem with Robert Griffin III playing on Sunday, explains why the Patriots match up so well against the Texans and more. Listen

Fighting words - Scott Van Pelt and Ryen Russillo talk about the altercation between Kevin Garnett and Carmelo Anthony which continued even after Monday night's game ended and talk about Garnett's reputation as a trash talker and competitor. Listen

PODCASTS
Will Cain gives you his unfiltered take on the biggest stories in the sports world.