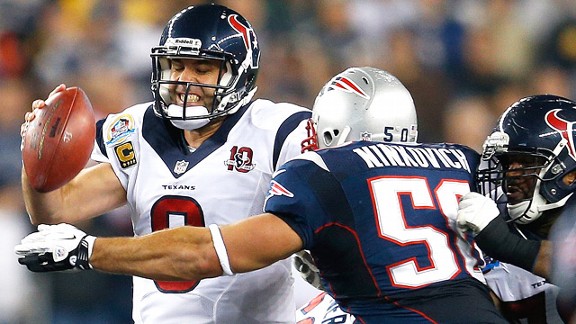 Jim Rogash/Getty ImagesTedy Bruschi describes the mentality Matt Schaub and the Texans have heading into this weekend.
Friday, Scott Van Pelt and Ryen Russillo discuss divisional playoff matchups, pick winners and more. Listen to the best highlights of the show below!
ESPN NFL analyst Tedy Bruschi describes the mentality of underdogs in playoff games, talks about why the Patriots match up well against the Texans and previews the other three games in the divisional round. Listen

Pro Football Weekly's Eric Edholm says the hiring of Monte Kiffin in Dallas means the Cowboys' defensive approach will be drastically different. Edholm also talks about Rob Chudzinski being named the Browns new coach, the coaching vacancies which still remain and the playoff matchups this weekend. Listen

Scott Van Pelt and Ryen Russillo peer into their crystal ball as they attempt to write Monday's headlines on Friday. SVP & Russillo also comment on the Browns' decision to hire Rob Chudzinski as their new coach. Listen

Winners! - Keep up with Scott and Ryen's picks in this week's edition of Winners »
PODCASTS
Ryen Russillo and Danny Kanell bring their own flavor to the game, mixing some pop culture with the latest happenings.