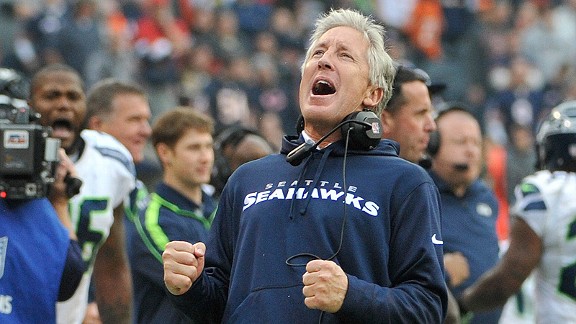 David Banks/Getty ImagesPete Carroll tells Ryen Russillo about Russell Wilson, Richard Sherman, Seahawks-Falcons and more.
As the ultimate company man, Ryen Russillo didn't hesitate to step up and fill in on The Herd when Colin Cowherd fell ill. Listen to the highlights of Ryen's effort below.
Seahawks coach Pete Carroll comments on when he knew that Russell Wilson could be a special QB, the key matchup between Seattle's DBs and the Falcons' WRs, Matt Ryan and more. Carroll

Redskins RB Alfred Morris shares his thoughts on whether Washington will need to modify its offense after Robert Griffin III's injury and more. Morris

ESPN's Rick Reilly explains why he thinks Robert Griffin III deserves some blame for his injury. Reilly also discusses the NFL MVP race, Demaryius Thomas and Eric Decker. Reilly

ESPN NFL analyst Darren Woodson dishes on Seahawks-Falcons, Richard Sherman, why he likes the 49ers over the Packers, his expectations for Colin Kaepernick and more. Woodson

NFL Live's Trey Wingo weighs in on Seahawks-Falcons, Packers-49ers, Texans-Patriots, Ravens-Broncos, Jason Garrett's future with the Cowboys and more. Wingo

Pregame.com's RJ Bell reacts to Ryen's NFL picks for the weekend. Bell

"Spanning the Globe" features the Associated Press' Mark Long and Arnie Stapleton and the Washington Post's Mark Maske. Listen

PODCASTS
Ryen Russillo and Danny Kanell bring their own flavor to the game, mixing some pop culture with the latest happenings.