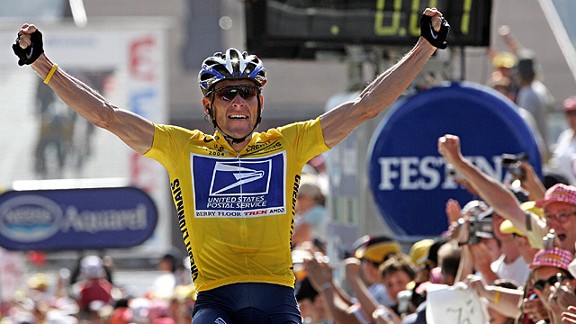 PATRICK KOVARIK/AFP/Getty ImagesScott Van Pelt says Lance Armstrong was the perfect American sports hero before it fell apart.
Tuesday, Scott Van Pelt discusses Lance Armstrong's reported admission to PED use, how the teams who lost in the playoffs will begin to prepare for next season and more. Listen to the best highlights of the show below!
Lance comes clean - Scott Van Pelt says Lance Armstrong was the perfect American sports hero but as with most things, a tarnished reality has been revealed by pulling back the curtain on Armstrong's true actions. Listen

Yahoo! sports columnist Dan Wetzel discusses Lance Armstrong's ego, his pattern of bullying and what he hopes to gain by admitting PED use now. Wetzel also expresses his hope that Oprah asks hard questions about Armstrong's methods of intimidation and more. Listen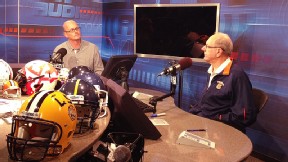 Ray Necci/ESPNSyracuse coach Jim Boeheim joins SVP in studio.
Syracuse coach Jim Boeheim talks about losing James Southerland to an eligibility issue, who will need to step up in his absence, this Saturday's matchup against No. 1 Louisville, eclipsing the 900-win plateau and the loss which has stuck with him the most. Listen

49ers TE Vernon Davis compares the team's run to the NFC Championship this year to their run from a year ago. Davis also talks about Colin Kaepernick's incredible skill set, Alex Smith's professionalism through difficult circumstances, Michael Crabtree's development, what it's like to play for Jim Harbaugh and the team's budding rivalry with the Seahawks. Listen

ESPN NFL analyst Trent Dilfer admits he was wrong about his criticism of Alex Smith's benching in San Francisco, discusses Colin Kaepernick's role in the evolution of the quarterback position and explains why the Patriots have the edge over the Ravens in the AFC Championship. Listen

ESPN NFL analyst Antonio Pierce says the teams which lost last weekend don't need to drastically change anything before next season. Pierce also talks about the incredible talent of Colin Kaepernick, how players like Kaepernick are changing the entire league's offensive approach and what he expects to see in this weekend's games. Listen

ESPN NBA analyst Tim Legler thinks there's no reason to be concerned by the Heat's recent struggles, explains why Kevin Martin is fitting in so well with the Thunder and says the Celtics may be the only good fit for DeMarcus Cousins. Listen

One Big Thing - Scott Van Pelt talks about a new ad campaign featuring Tiger Woods and Rory McIlroy, marvels at how Woods is taking on the persona of "the old man" and shares a personal story about how quickly time can pass. Listen

PODCASTS
Ryen Russillo and Danny Kanell bring their own flavor to the game, mixing some pop culture with the latest happenings.