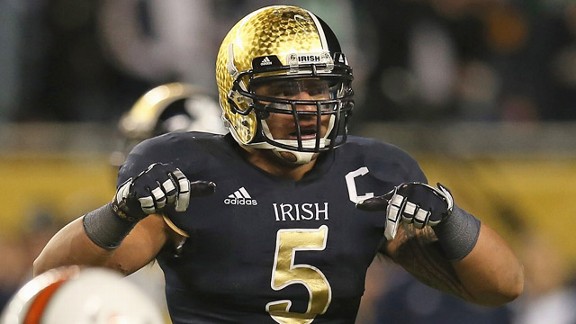 Jonathan Daniel/Getty ImagesScott Van Pelt talks about what can be learned from the hoax surrounding Notre Dame's Manti Te'o.
Thursday, Scott Van Pelt discusses the Manti Te'o hoax situation, starts to prepare for championship weekend in the NFL and more. Listen to the best highlights of the show below!
Te'o questions - Scott Van Pelt tries to wrap his head around the Manti Te'o situation, says it's hard to comprehend how this happened and questions who could have benefitted from perpetrating this hoax. Listen

SBNation.com's Spencer Hall says the deeper the Manti Te'o story goes the more disturbing it gets. Hall adds that the moral of this story is that no story should be blindly accepted by the media or the public. Listen

ESPN NFL analyst Jason Taylor talks about the revealing story written about him by Dan LeBatard and the public's reaction to the story. Taylor also previews this weekend's games and says the Patriots will be able to withstand the absence of Rob Gronkowski. Listen

ESPN the Magazine's Chad Millman talks about his reaction to the Manti Te'o story, gives insight into how the magazine would handle a situation like this, who may have ultimately been involved in the hoax and talks about the betting lines on this weekend's conference championship games. Listen

The Chicago Tribune's Brian Hamilton confirms that Manti Te'o was indeed talking to somebody on the phone who had a female voice. Hamilton talks about where the story will go from here, says Te'o owes it to the public to speak about the situation and admits that he's skeptical that Te'o had nothing to do with the story. Listen

ESPN's Michael Wilbon says regardless of who is perpetuating the lies in the Manti Te'o hoax situation, the entire circumstance is incredibly sad due to the fact that Te'o is a young man who will have to deal with this for the rest of his life. Wilbon also addresses the journalistic failures in the story. Listen

Nevada coach Brian Polian talks about his experiences recruiting Manti Te'o to Notre Dame, says Te'o is one of the most genuine people he's ever met, has no doubts Te'o is telling the truth. Polian adds that Te'o must address the situation with teams that may draft him, but owes no explanation to the general public. Listen

Clippers forward Caron Butler chats about how well the team has come together this season, the Clippers' recent hot streak and says the team is more focused on winning the league before winning the "battle for Los Angeles." Listen

PODCASTS
Ryen Russillo brings his own flavor to the game, mixing some pop culture with the latest happenings.