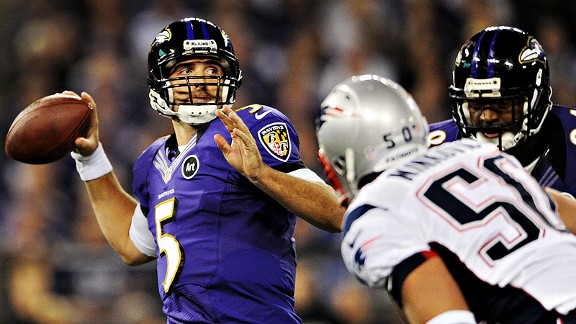 Patrick Smith/Getty ImagesTrent Dilfer says the confidence of Baltimore's Joe Flacco under pressure is extremely impressive.
Monday, Scott Van Pelt and Ryen Russillo discuss the conference championship games, who has the advantage going into the Super Bowl and more. Listen to the best highlights of the show below!
Ravens kicker Justin Tucker describes the mood in the team's locker room after beating the Patriots, says the team isn't intimidated by anybody but has respect for every opponent. Tucker also talks about the pressure of being a kicker playing in the Super Bowl, the inspiration the team draws from Ray Lewis and more. Listen

ESPN NFL analyst Trent Dilfer marvels at the confidence and execution of Joe Flacco under pressure, explains how the Ravens were able to shut down the Patriots' offense and describes why the pistol offense run by the 49ers is so difficult to stop. Listen

ESPN NFL Insider Chris Mortensen talks about Joe Flacco's improvement this season, explains what Baltimore's postseason run means for Flacco's contract negotiations, talks about why Jim Harbaugh has been so successful developing quarterbacks and describes what went wrong with the Patriots' offense. Listen

One Big Thing - Scott Van Pelt delves into Bill Belichick's surly refusal to conduct an interview after the Patriots' loss and says that although everyone knows Belichick never reveals anything in his interviews, he owes it to the football audience to do them. Listen

PODCASTS
Ryen Russillo brings his own flavor to the game, mixing some pop culture with the latest happenings.