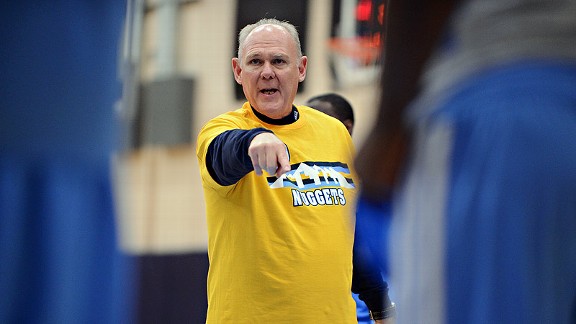 Garrett W. Ellwood/Getty ImagesDenver Nuggets coach George Karl says he's very proud of his team's progress so far this season.
Tuesday, Scott Van Pelt and Ryen Russillo discuss the Lakers' struggles, Tim Brown's allegations surrounding Super Bowl XXXVII and more. Listen to the best highlights of the show below!
Nuggets coach George Karl talks about what makes him the most pleased about his team this year, the team's difficult schedule so far this season, the players who are taking leadership roles, the outlook for the second half of the year and much more. Listen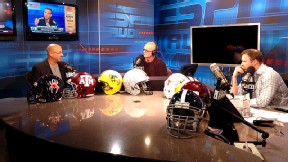 Ray Necci/ESPNTerry Francona joins SVP & Russillo in studio.
Indians manager Terry Francona discusses the proccess of writing his book detailing his years with the Red Sox, some of the issues he had with players such as Manny Ramirez and the club's ownership. Francona also talks about the way it ended in Boston and what the future holds for him in Cleveland. Listen

ESPN NFL analyst Eric Mangini says there is no way Bill Callahan sabotaged his own team in Super Bowl XXXVII. Mangini also details the game plans of both teams in this year's Super Bowl, talks about how the Patriots will approach this offseason and more. Listen

ESPN NBA analyst Kurt Rambis talks about the Lakers' continued struggles, what they'll have to do to make the playoffs, Kobe Bryant's relationship on the court with Dwight Howard, the Spurs' sustained success and more. Listen

One Big Thing - Scott Van Pelt talks about the emergence of the pistol offense and says that people who say it's only a fad clearly aren't paying attention. People who played the game and know what they're talking about give it more credence than they've given other schemes like the wildcat. Listen

PODCASTS
Will Cain gives you his unfiltered take on the biggest stories in the sports world.