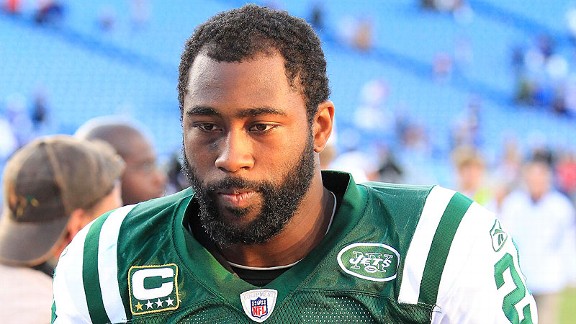 Kevin Hoffman/US PresswireRyen Russillo and Adnan Virk wonder if the New York Jets should trade cornerback Darrelle Revis.
Thursday, Ryen Russillo and Adnan Virk discuss Dwight Howard's future with the Lakers, which available quarterback is the best option and more. Listen to the best highlights of the show below!
49ers safety Dashon Goldson discusses the defense's early struggles against the Falcons, his personal improvement over the past couple of seasons, how the physical nature of San Francisco's defense matches up against the Ravens and more. Listen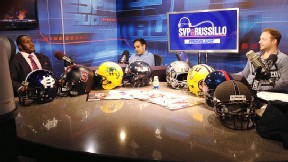 Ray Necci/ESPN Radio Chargers linebacker Takeo Spikes in studio.
Island hopping? - Ryen Russillo and Adnan Virk talk about the possibility of the Jets trading Darrelle Revis and debate whether or not it's worth moving a superstar player when the team is trying to rebuild. Listen

Chargers linebacker Takeo Spikes says the 49ers defense is incredibly talented and will be extremely hard to score on in the Super Bowl. Spikes also discusses how Manti Te'o will be treated by an NFL squad, comments on the latest developments in the Junior Seau case and more. Listen

ESPN NFL analyst Brian Dawkins talks about his experiences playing in the Super Bowl, says the 49ers' physical style of play gives them an advantage against the Ravens, compliments the Ravens' ability to shut down the opposing offense when it matters most and more. Listen

ESPN's Michael Wilbon chats about the impending return on Derrick Rose, worries about Rose coming back too early, says the Lakers look completely overmatched and says the Warriors are one of the most fun teams to watch in the NBA. Listen

ESPN the Magazine's Chad Millman details how Las Vegas is determining the betting lines on the Super Bowl, talks about the latest issue of the magazine and more. Listen

PODCASTS
Will Cain gives you his unfiltered take on the biggest stories in the sports world.